Kansas City Royals: Gordon on team "Pieces are here"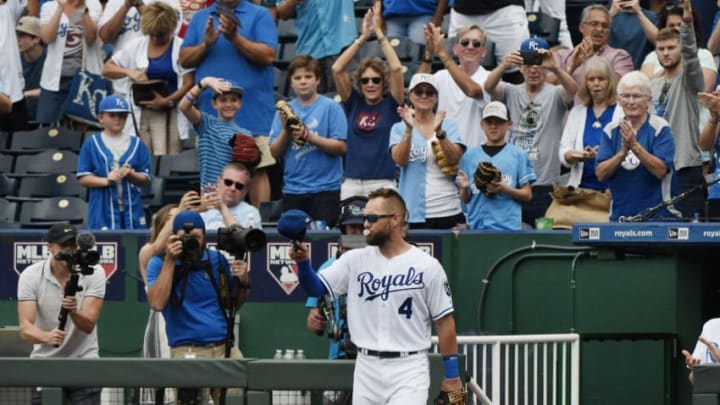 (Photo by Ed Zurga/Getty Images) /
Alex Gordon may not be back with the Kansas City Royals next year but he believes that the team has several pieces in place to contend soon.
While Sunday may have been the final game for Alex Gordon in a Kansas City Royals uniform, the perennial Gold Glover was optimistic for the team's future given what transpired, especially in the second half.
Gordon will be 36 years old when the 2020 season starts and the Royals will most likely decline his steep mutual option. However, that doesn't mean they can't work out a much smaller one-year deal. It's already been discussed at length on whether that's actually the right move for the franchise going forward or just preserves the nostalgia for another season, so I won't go into that anymore.
That being said, a lot can be taken away from Gordon's interview after the 2019 regular-season finale in which the Royals were able to come back and give Ned Yost a proper sendoff into retirement. This Royals team was highlighted by a career-year by Jorge Soler, who set the bar for the American League in home runs with 48 dingers.
Soler and Whit Merrifield played in all 162 games, which is amazing in that Soler has never managed to stay healthy for a full season and it's also not a common thing to do in today's modern game. Still, Gordon believes that both Soler and Merrifield can be part of the next competitive Royals team.
"What Soler did this year, especially in the second half was unbelievable. He made this park look small which is hard to do. He was probably the most impressive thing I've seen since I've been here. It's a one of a kind talent that he has and it was good to see all year long. Dozier coming out, Whit doing what he does, there's pieces here that can make a good team. We just got to fill it in with some other things. Hopefully, we can do that and come back stronger next year.I think we're tired of losing, tired of hearing the rebuild system. We kind of had that feeling this year. It was just kind of a tough year early on losing games the way we do. We got behind and never really could get out of it. It was a tough year. We thought we could win this year. I think everyone is leaving this place with that feeling, with that belief that we can compete next year."
The Royals made some poor decisions last offseason in what they thought was an attempt to become a better baseball team but new owner John Sherman will need to make a statement in free agency and/or trade this offseason to start to fill in the missing pieces. Without improvements, especially to the pitching staff, the team is already staring down another 100-year year in 2020.