Kansas City Royals: Finding the keepers from the starting rotation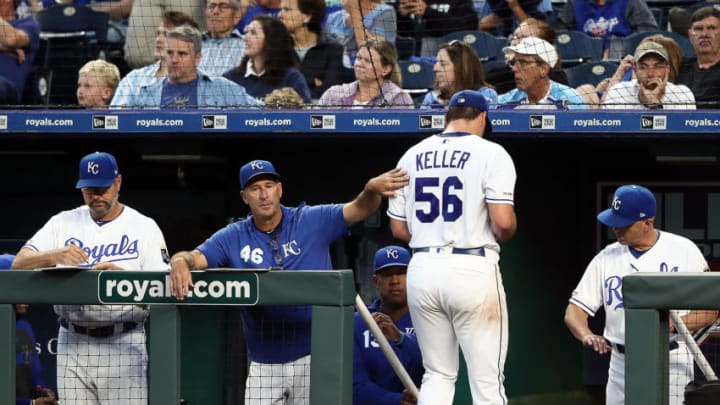 (Photo by Jamie Squire/Getty Images) /
(Photo by Ed Zurga/Getty Images) /
Danny Duffy and Mike Montgomery may not yet be done starting games. But, their window is closing and we should keep open minds about moving them to the bullpen.
These two are tough for me. Danny Duffy will always hold a special place in my heart, as I think he does with most Kansas City Royals fans. I would like to see him enjoy several more years of success. But, I am hesitant to believe that is possible if he stays in the rotation too much longer. Mike Montgomery has shown glimpses of being a good starting pitcher throughout his career.
I think it is most likely, however, that their best performances in the future will be as bullpen pieces. Neither one of these guys are bad, but they have both shown signs of struggling to pitch too many innings in a season and of losing velocity on their fastballs. I wouldn't go as far as to say that having one of them in the rotation to begin next year is a reason to shred your season tickets.
But I do think a healthy organization would be looking to shore up guys like this with more starters so they can begin to transition these pieces to the bullpen over the next year or two. I cannot help but imagine Danny Duffy ending his career as a shutdown closer. It has worked pretty well with Ian Kennedy.
I know exactly what you're thinking. After clearing out all the carnage mentioned in this story, who would even be left to fill out a rotation next year? The answer is – not much! The Royals have Brad Keller and Jakob Junis has also probably earned another shot in the rotation. Beyond that, there is Duffy and Montgomery, whose days as starters may be winding down.
I am not going to discount the exciting group of up and coming young guns we have pitching right now in the minors. But we do need to acknowledge that they are still in the minors. And we will be lucky if even two of them make it up to The Show next year. In a perfect scenario, we would not be relying on minor league young men like that to carry a rotation.
The bottom line is we need pitching. We need starting pitching. And what we watched this season is just not good enough. I get as upset as anyone with the way Cal Eldred and Ned Yost utilize their pitchers. At times it seems as if they are making bizarre decisions simply to irritate us. But the truth is they begin almost every night with a ship that is taking on water and try to keep it from sinking. The talent level in this pitching staff is not good enough. And Dayton needs to do better. We should expect better.