Kansas City Royals: Jorge Soler has golden opportunity for the taking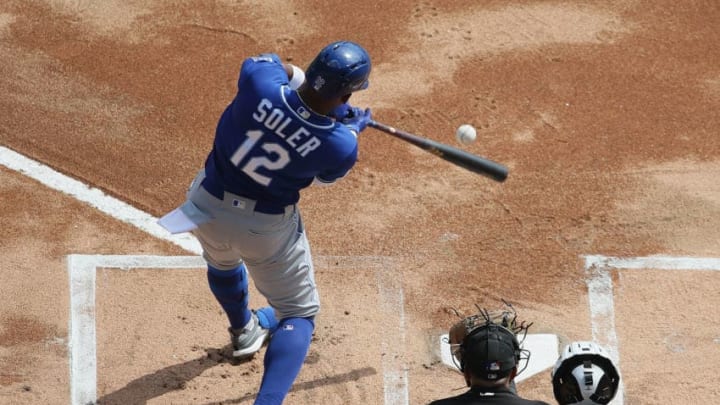 KC Royals, Jorge Soler (Photo by Jonathan Daniel/Getty Images) /
Jorge Soler has the chance to do what no other players on the Kansas City Royals have ever done, especially with his counterpart done for the season.
Obligatory Jorge Soler post. No, but seriously, the Kansas City Royals have never had a player that led the American League in home runs but that all could very soon change. Soler has put up an impressive season thus far and with just two weeks remaining, he'll likely just need to hit a couple of home runs to take over the lead for the home run title.
His counterpart, Mike Trout, was declared out for the season after requiring season-ending foot surgery. Apparently, Trout has a condition called Morton's neuroma where the tissues around the nerves in his foot begin to thicken. With the Angels not playing October baseball, there is really no reason to push Trout any further. I do admire him stating that if the Angels were in a playoff race, he would absolutely do anything to help the team.
Back to Soler. Entering Monday, he was just 1 home run shy of tying Mike Trout's American League-leading 45 home runs. The closest person behind Soler is Nelson Cruz (and Gleyber Torres) with 37 home runs, so Soler should at the very least finish second should he not hit any more home runs.
However, with the way he's been playing this month, one would think he is a shoo-in for the home run title. If you recall, Mike Moustakas finished tied for 5th in the American League during the 2017 season with 38 home runs but was no match for Aaron Judge's 52 long balls. Back in 1985, Steve Balboni finished 3rd in the AL with 36 home runs. In 1995, Gary Gaetti finished 7th in the AL with 35 home runs. You get the picture.
I am not saying it's automatically over but I kind of wish Trout would have finished the season to have a fair race for the home run title. Again, Soler could go cold the rest of the year, especially playing against much stiffer competition these final two weeks but it would appear that it is his to lose at this point.
It's been a well-deserved season for Soler, who struggled to stay healthy throughout his career until now. Combined with playing a full season and improved plate discipline, Soler is seeing his potential come to fruition right before his eyes.
Despite the naysayers, some credit has to be given to this Royals coaching staff for helping him recognize pitches as he's seeing less and less breaking balls simply because he isn't swinging at them as often. Now go get that home run title, Jorge.