Kansas City Royals: Yefri Del Rosario getting some praise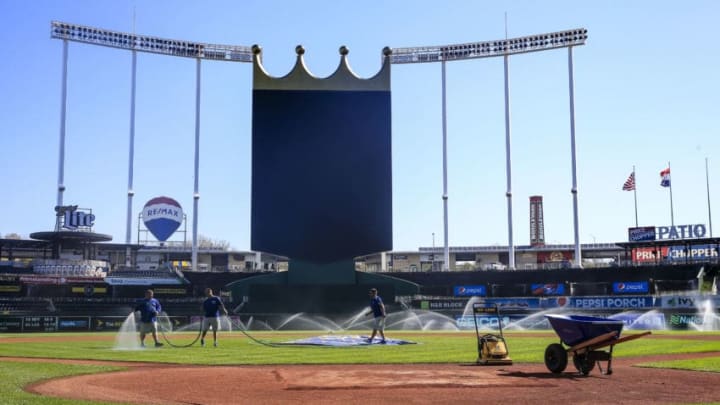 KANSAS CITY, MO - APRIL 28: The Kansas City Royals' grounds crew gets the field ready before the first game of a doubleheader against the Chicago White Sox at Kauffman Stadium on April 28, 2018 in Kansas City, Missouri. (Photo by Brian Davidson/Getty Images) /
From the end of 2018 to the recent release of the Kansas City Royals top prospects on MLB Pipeline, RHP Yefri Del Rosario jumped 11 spots.
It seems the team of Jonathan Mayo, Jim Callis, and Mike Rosenbaum are a fans of what is to come from Yefri Del Rosario. They listed him as the Kansas City Royals prospect we will be talking about in 2021.
In a stroke of luck for the Royals, and misfortune for the Braves, Del Rosario became available to them due to the international signing violations by Atlanta. The top get was thought to be Kevin Maitan, but Del Rosario is no consolation prize.
As he has progressed, his demeanor and abilities have drawn some comparisons to Yordano Ventura. That is quite the comp.
Del Rosario spent the 2018 season with Lexington, pitching his way to a 3.19 ERA in 15 starts. His MLB Pipeline profile is all positive reviews as well. He has a plus fastball with an above average breaking pitch. They also say his changeup can become above average and his 45 grade control is on the rise.
Read all you want about Del Rosario's 2018 season and it will say he had a brilliant end of a season that started roughly. He made two starts for Lexington in the first half, totaling eight innings and an ERA over five. Then, he dazzled his way to a second half ERA of 2.92 in 13 starts.
There is no question that the Kansas City Royals will bring Del Rosario along as a starter. It will be nice to see if he can bring the confidence he ended last year with into the 2019 season.
With his improved control, it will be interesting to see how much that helps his ability to strike batters out. In his first half last year, albeit eight innings, he walked five batters. His second half saw 24 walks in 71 innings.
There is a lot to like about Del Rosario. He certainly turned heads last season, and the Kansas City Royals are lucky he was made available. Plus, it does not hurt to get an endorsement from the guys at MLB Pipeline.
One thing that was big in Del Rosario breaking out was just letting him pitch. The Braves organization was very strict with how much they let him throw. Before his 79 innings with the Royals, he threw 37 innings in 2017. Now that he has built up his arm durability and can start, he could be a lot of fun to watch in the 2019 season.
Fans of the Kansas City Royals should be exciting about Del Rosario. Even though he is a few years from breaking into the MLB, he has an electric arm that is getting him noticed. Sitting at 12 on the prospect list, it might be a little to low when the dust settles on the upcoming season.