Kansas City Royals: New Season Prospect Watch, Gerson Garabito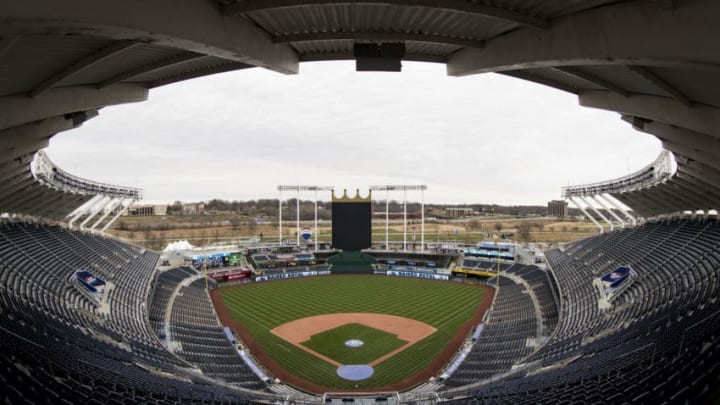 KC Royals (Photo by Brian Davidson/Getty Images) /
MLB Pipeline dropped their 2019 Top 30 prospect lists for each organization earlier this week. That signifies the beginning of a new baseball season for the Kansas City Royals.
Though Gerson Garabito isn't in the 30th slot, he is in the 29th, he is our first installment of the new season Kansas City Royals prospect watch. Jonathan Bowlan rounds out the list, but we recently profiled him in the offseason, which you can check out by clicking here! There hasn't been enough change in the past few weeks to write another about him. Or, head on over to our Royalty Rising section and read our feature story about Bowlan written by fellow contributor, Trevor Hooth.
Getting to Gerson Garabito, he spent the 2018 season with the Wilmington Blue Rocks. He was signed by the Royals in 2012. He has been unprotected in the Rule 5 draft for the past two years, but he wasn't selected by any other teams.
As far as MLB Pipeline's grades are concerned, his fastball is his strongest pitch, grading out at a 55. That is followed by his curveball and changeup, both with grades of 50. Lastly, his control grade sits at 45. That isn't bad for a young, 23 year old. He was the league leader in the Carolina League in the ERA column.
Garabito's arsenal of pitches is pretty average, but he does profile to be a back-end starter in the majors eventually. If that doesn't work out for him, he could also be a middle innings reliever. MLB Pipeline's scouting report states that his stuff wouldn't be a good fit for short stints, but taking on the role of a long reliever may be a possible fit for Garabito as well.
The right handed pitcher spent two seasons in the Dominican Summer League before moving up in the organization. During the 2018 season, he spent the entirety with Wilmington.
During the season, Garabito tallied a record of 8-6, starting 26 total games and pitching for 142.1 innings. During his time on the mound, his ERA totaled 3.16. He allowed 117 hits, 59 runs (50 earned), 73 walks, and struck out 116.
His opponents averaged .226, and his WHIP for the season sat at 1.33. Overall, his career record in the minors is 20-25 and his ERA is 3.32.
The 23 year old is just starting out, so it will be a while before he makes it to the show. MLB Pipeline's prediction is that he will hit the big leagues in the 2022 season.