Kansas City Royals: Offseason Prospect Watch, Kelvin Gutierrez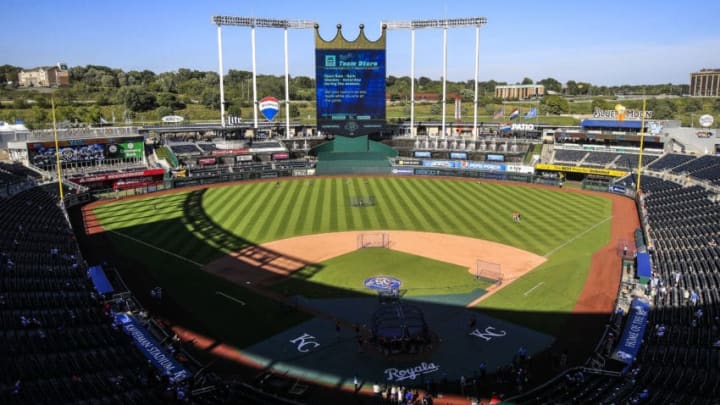 (Photo by Brian Davidson/Getty Images) /
In the 17th slot on MLB Pipeline's list of top 30 prospects for the Kansas City Royals is third baseman, Kelvin Gutierrez.
Kelvin Gutierrez began the 2018 season in the tenth spot on the Washington Nationals list. By midseason, he was listed as the 17th best prospect in the Kansas City Royals organization, according to MLB Pipeline. Gutierrez was signed by the Washington Nationals in April of 2013, and the 24 year old was traded to the Royals in the Kelvin Herrera trade.
He earned mid-season All-Star accolades three years in a row from 2015-2017 with various squads, and was a post-season All-Star in 2016. His minor league career has been spent mainly in the different levels of A ball. In 2018, he made the jump to Double A, both with the Nationals and with the Royals.
The Statistics
In 2018, he slashed .275/.329/.400 through 123 total games. Of those, 65 were with the Northwest Arkansas Naturals. He knocked in 66 runs, tallied 130 hits, and sent 11 balls over the fence. Through 242 at bats, he was just over his average slash on the year, at .277/.337/.409.
Overall, since 2013, he has played in 481 games and slashed .284/.344/.391.
The Grades
MLB Pipeline grades Kelvin Gutierrez as a 45 overall player. His best tool is his arm, grading out at a 65, followed by his field tool at 55 and his hit and run tools at 50. Their lowest grade is his power tool, sitting at 45.
He headlined the trade to the Kansas City Royals, which also included outfielder Blake Perkins and right handed pitcher Yohanse Morel in June of 2018, sending Kelvin Herrera to the Washington Nationals. He was on the Nationals 40-man roster last year after a good 2017 season.
The Nationals thought he was one of the better pure hitters in their system. He was a shortstop early on, but he transitioned to the third base position. He moves well, and he has near plus-plus arm strength.
Where does he fit in?
MLB Pipeline predicts he will hit the MLB in 2019. If Hunter Dozier is unable to perform at the hot corner, it's likely Nicky Lopez is the next man up. But, if he goes down due to injury or the Royals need someone to fill in at third, Kelvin Gutierrez is more than capable.