Kansas City Royals: Winning statistics for the Royals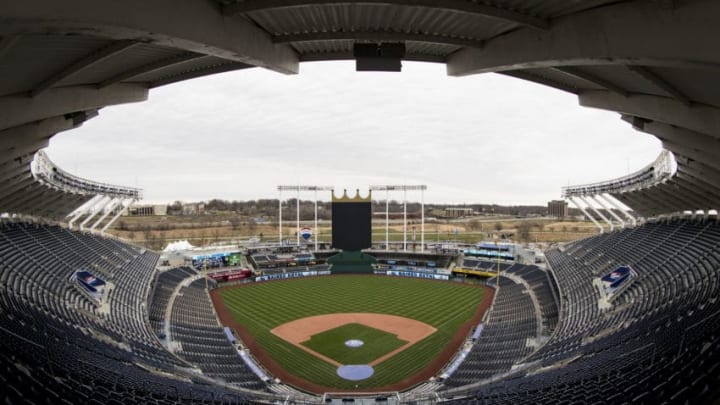 KC Royals (Photo by Brian Davidson/Getty Images) /
When you look at the overall numbers from year to year, you start to notice something. Some totals remain about the same. However there are others that are wildly different. These are the statistics that tell me the biggest story about the Kansas City Royals.
Most of these numbers can be guessed from just from watching the games. They are obvious. Others may well explain the actions that Kansas City Royals management make. Namely, Dayton Moore and Ned Yost.
What I believe is most glaring in importance is Runs Allowed. Last year the Royals pitching staff and defense gave up 833 runs.  They gave up only 188 more than their championship year in 2015, and 209 in 2014. If Kansas City wants any chance of a winning season or opportunity for the playoffs, that number has to come down greatly.
Scoring more runs is important too. But what the numbers tell me, is not as important than I originally thought. In 2015 the Royals scored 724 runs and in 2018 they scored 638. A difference of 86 runs.
However the team scored 651 runs in 2014, when the Royals came within two runs of winning the final game of the World Series. That was only 13 more than last years total. An offense that couldn't seem to score more than two runs a game for a month and a half!
Granted the AL Central was probably weaker than in 2018, but not by that much. For the Kansas City Royals, a target of around 690 runs would be reasonable. If those runs are well placed, they will lead to wins. Terrance Gore was brought back just for that purpose. If he scores the majority of those additional runs, it means we are within a score or two of winning games.
If Gore is going to have a successful season it will be because of pitching and defense. They won't put him in if the team is multiple runs behind. There is ample room for improvement and a good chance they do. The Royals need to limit runs scored against them to 680 or less.
I believe the Kansas City Royals are already ahead just from the departures of Jason Hammel, Brandon Maurer, Blaine Boyer, Justin Grimm and Burch Smith. Allowing 270 runs scored, whoever replaces those innings doesn't have a high bar to achieve to see that improvement.
I believe the current roster has a good starting rotation and bullpen somewhere. There is a combination of Danny Duffy, Brad Keller, Jakob Junis, Ian Kennedy, Jorge Lopez, Heath Fillmyer, Trevor Oaks or others that should be successful. Identifying that rotation this year will dictate the Royals success now and in the future.
The Kansas City Royals need to get into the late innings having only given up 4 runs or less. Like 2015, that needs to happen more nights than not. The new guys showed the ability to do that late in the year. They will have to repeat that kind of success in all of 2019.
The bullpen, of coarse has the biggest questions. Wily Peralta played about once every week or two as the closer. He did alright. It's hard to get a rhythm going playing so infrequently. With better starting results, he should see more action. Peralta has good stuff and his effectiveness should improve because of more use. Brad Boxberger seems like a nice, if unexciting, pickup. Certainly an improvement over any of the five pitchers who left.
Kevin McCarthy, Tim Hill and Glenn Sparkman gave the Royals some quality innings in 2018. Sparkman was the surprise for me. Once he settled into the big leagues, he looked really good. When used in relief, he had a nice run of innings where he give up almost no runs.
McCarthy and Hill pitched a lot of quality innings as well. Between the two of them they made 135 appearances. That's way too many. The addition of other alternatives should help bring that down and I believe improve their numbers. The Royals have a large group of alternatives to choose from. I like competition, and I see a bullpen with the arms available this spring. May the best man win.
The other component to limiting runs is defense. Billy Hamilton goes a long way improving the outfield. Jon Jay was okay, but Hamilton is more than a step above him in ability. We have some decent to great defensive players to choose from for right field.
Having a steady infield will help too. Knowing who will be manning each position should lead to a bit of a comfort level and better consistency. Hunter Dozier needs to continue to improve at third and Ryan O'Hearn needs to get better at scooping up throws, especially those coming off the grass.
Everybody will have to contribute limiting runs in order for the Royals to have a winning season. Asking a team to cut 150 runs is asking a lot. Even if we do not get there, the season will be a success if the Royals identify the team that can in 2020.