Kansas City Royals: The Top 5 Pitchers in Royals History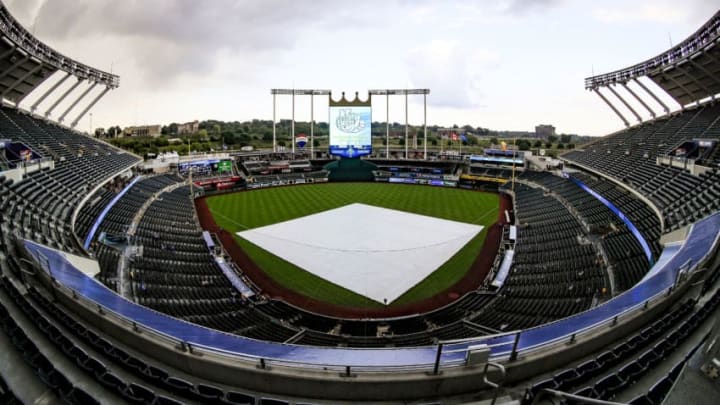 KANSAS CITY, MO - AUGUST 15: A general view of Kauffman Stadium before the game between the Toronto Blue Jays and the Kansas City Royals on August 15, 2018 in Kansas City, Missouri. (Photo by Brian Davidson/Getty Images) /
1990: Mark Gubicza of the Kansas City Royals winds back to pitch during a MLB game in the 1990 season. (Photo by: Jonathan Daniel/Getty Images) /
4. Mark Gubicza
Following Dennis Leonard is Mark Gubicza in the fourth slot.
Mark Gubicza is next on the list of top pitchers that have played for the Kansas City Royals, taking the fourth slot in history. Gubicza was drafted by the Kansas City Royals in the 2nd round of the 1981 MLB Draft. He remained a part of the organization until 1996. Gubicza often had a high ERA, with a 3.91 ERA on his career in his time with the Royals. But, he oftentimes found a way to win, meaning he had a large number of wins under his belt despite the high ERA.
Gubicza was an All-Star in the 1988 and 1989 seasons, finishing with a career-best 20-8 record with a 2.70 ERA in '88, also finishing 3rd in Cy Young votes, and a 15-11 with an ERA of 3.04 in '89. These two seasons would be the lowest his ERA was.
Gubicza would definitely run into command issues here and there, as he leads the Royals all-time in walks, hit batters, and wild pitches.  Regardless, Gubi was reliable when needed most, especially when our pitcher that comes in at number one all time was hurt. His fastball and devastating slider would make batters just look clueless at the dish.
Gubi would later be inducted into the Royals Hall of Fame in 2005. The right hander takes the fourth spot on our list. After beginning his Major League Baseball career out of William Penn Charter High School in Philadelphia, Pennsylvania in April of 1984, it ended with the Anaheim Angels in 1997. He spent just one year in Anaheim after 13 years with the Kansas City Royals.
Here's how Mark Gubicza ranks on the Royals' top ten lists in franchise history.
Rankings in Royals Top 10 Career Pitching Leaders:
2nd: Strikeouts, Games Started, Innings Pitched, Batters Faced
3rd: Shutouts, Wins, War for Pitchers
6th: Games Pitched, HR/9
7th: Complete Games