Royals Rumors: Mock trade with Whit Merrifield and Milwaukee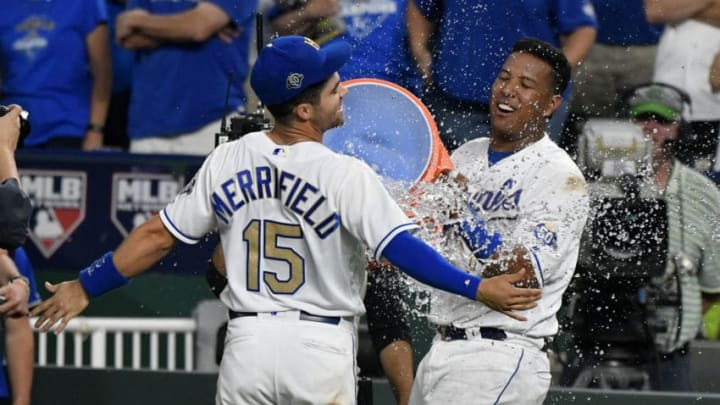 KANSAS CITY, MO - MAY 18: Whit Merrifield #15 of the Kansas City Royals is doused with water by Salvador Perez #13 as they celebrate a 5-2 won over the New York Yankees Kauffman Stadium on May 18, 2018 in Kansas City, Missouri. (Photo by Ed Zurga/Getty Images) /
The Kansas City Royals have had quite a few players in trade rumors. Therefore, we decided to get in contact with Reviewing the Brew to figure out a possible trade. Here is what we came up with.
The Milwaukee Brewers have been rumored to be interested in a Kansas City Royals favorite. Whit Merrifield has been a name the Brewers seem interested in. Therefore, Kings of Kauffman decided to partner up with Reviewing the Brew to come up with a possible mock trade.
Due to the contract details for Merrifield, any team that tries to acquires Merrifield has to know that the price will be high. Which is why the Royals trading Merrifield might be tempting.
Knowing the price tag would be high, the first name brought up to headline the trade was the teams No. 1 prospect, and 30th overall in baseball, second baseman Keston Hiura. Not surprisingly, the headline was countered. They countered with the teams No. 4 prospects, righty Luis Ortiz.
While having another pitcher is appealing, losing a player like Merrifield means the Royals would need a position player of value as the headline. Our counter was for the teams No. 3 prospect, third baseman Lucas Erceg.
After agreeing on a headline piece, filling in the rest was next on the list. The decided players to be packaged with Erceg was outfielder Domingo Santana and starting pitcher Bubba Derby.
Meaning, the Brewers would get Merrifield and the Royals would get Erceg, Santana, and Derby.
So what exactly did the Royals get in return?
When looking at this from the outside, the Royals would be getting a third baseman of the future, an outfielder with promise, and a starter or bullpen arm that has been playing very well. So let's dig a little deeper into the Royals return.
Lucas Erceg
Erceg would be the headline of the trade. He is currently the Brewers #3 prospect, as well as being the 10th best third base prospect. Here is a short explanation of what Erceg can bring to the Royals.
"Erceg has impact potential from the left side of the plate, with natural feel to hit and plus raw power that helps him to generate booming home runs and could make him a middle-of-the-order presence in the future. Erceg has the necessary approach to accomplish that, too, though he will need to simplify his approach. Defensively, Erceg is athletic as a third baseman, with hands, footwork and plus-plus arm strength — one that fired 93-94 mph fastballs as Menlo's closer — that are ideal for the position. He is an average runner but not a base-stealing threat."
Currently, Erceg is playing in Double-A. He is hitting .246/.302/.362 with 15 doubles and six home runs over 74 games. Over his three year career, he is hitting a combined .272/.324/.429 with 67 doubles, six triples, and 30 home runs over 276 games.
Over his five levels, Erceg has a wRC+ over 100 at four of the five levels. This year in Double-A has been the only time he's been below 100, logging a 86 wRC+. At the other levels, his wRC+ ranges from 102 to 177.
Erceg can provide the Royals with a future third baseman, that has the ability to increase his power ability. With the Royals most likely losing Mike Moustakas for good in a couple weeks, and no real third baseman in the system, Erceg makes for a perfect match.
Domingo Santana
Santana addresses a potential need for the Royals right now. While with the Brewers he seemed to find himself in a tough situation because he went from starting to sharing time. Then because his production dropped while platooning, he found himself being demoted back to Triple-A.
In 2017 with the Brewers, Santana slashed an impressive .278/.371/.505 with a .875 OPS. He also slammed 30 home runs and 29 doubles, while stealing 15 bases in 151 games. His wRC+ the last three years have been 111, 126, and 78. Simply put, his offensive abilities would be a dramatic increase for the Royals.
Unfortunately, while splitting time this year, his numbers did drop. His slash this year has been .249/.313/.354 with a 667 OPS over 62 games. Due to this, he found himself getting demoted to Triple-A where he has been hitting .300/.400/.433 over eight games.
Bubba Derby
This is the final piece to the trade. While Derby isn't on the Top-30 list for the Brewers, much less a well-known name, he is someone that can be a solid contributor to the Royals
Derby is currently in Triple-A Colorado Springs. His ERA is an impressive 3.77 over 30 games and 25 starts. He also has 119 strikeouts compared to 50 walks. Why it's impressive to me is the location. Colorado is notorious for being a place that pitcher go and struggle.
Here is a short excerpt from 2080 Baseball about Derby.
"Delivers the ball from a 3/4 arm slot, with moderate exertion. He features a strong, loose arm with fluid actions. Although he repeated his delivery fairly well, Occasionally throws across his body causing balance and landing issues. Some deception exists thanks to his leg kick and late exposure of the ball. Up-tempo pace and varied times to the plate kept batters uncomfortable while holding the running game in check."
According to 2080 Baseball, Derby has a three-pitch approach. His fastball sits between 90mph-94mph, a slider that sits around 83mph-85mph, and a changeup that sits at 81mph-84mph. If the Royals wanted, they could try him as a starter, but if needed they could move him to the bullpen.
Final Thoughts
This trade would drastically improve the Royals. This would provide the Royals with a fall back when Alex Gordon is no longer with the Royals, as well as allow Rosell Herrera to become the new Merrifield.
The Royals will be giving up a very good player in Merrifield in this trade. He is also a player that can play nearly every position at a high level, while not being a free agent until 2023. However, with this trade, the Royals would be getting three players with more control, that fit a bigger need.
Erceg and Derby haven't logged any MLB time, meaning they still have six years of playing time before becoming a free agent. Santana, if he logs his third year of service time, would be eligible for Arbitration next year, and free agency after the 2021 season. If this is the case, Santana could be a solid stopgap player for the Royals until the next wave comes to Kansas City.
So what do you think Royals fans? Would you be willing to part ways with Merrifield for this return? Do you think they need more? Should the Royals make the trade? Let us know below!