How Former Kansas City Royals Have Performed in 2017 Playoffs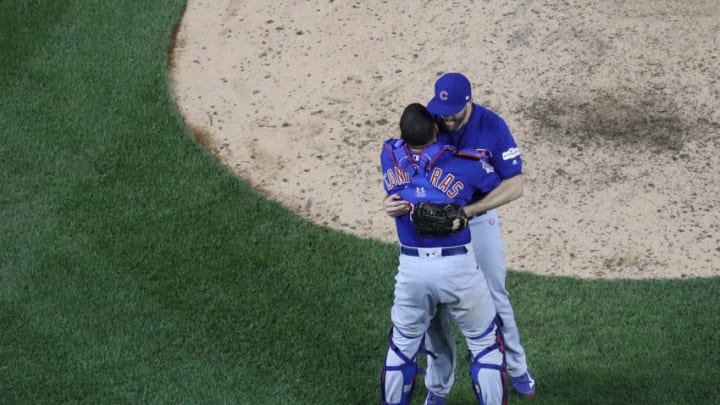 WASHINGTON, DC - OCTOBER 13: Wade Davis /
CHICAGO, IL – OCTOBER 11: Ryan Madson /
Eliminated in Division Series
Former Kansas City Royals ace Zack Greinke struggled in the wild card game, despite having a 6-0 lead entering the fourth inning. He had thrown three scoreless innings before a four-run implosion saw him leave after 3 2/3 frames.
The Diamondbacks advanced, though, to face the Dodgers. That series didn't go well, as Arizona suffered a sweep to their NL West Division rival. In the other NL Division Series, ex-Kansas City Royals reliever Ryan Madson suffered a heartbreaking loss with the Washington Nationals.
Here's how the former Royals who lost in the division series performed:
Zack Greinke, Gregor Blanco and Rey Fuentes, Diamondbacks
As mentioned above, Greinke started the wild card game. But he wasn't the only former Kansas City Royals player on the Diamondbacks' roster for the game. Ex-Royals Gregor Blanco and Rey Fuentes both made the roster for the winner-take-all contest. Neither played, though.
Blanco also made the NLDS roster, while Fuentes, whom Kansas City released in Sept. 2016 after playing 13 games, didn't. Despite not featuring in the wild card game, Blanco saw action in all three NLDS games. Blanco, who played for the Royals during part of the 2010 season, went 0 for 3 with two strikeouts in his limited time.
Greinke, meanwhile, started Game 3. He pitched better than in the wild card game, but his offense couldn't figure out Yu Darvish. Greinke, who won the 2009 AL Cy Young award with the Kansas City Royals, allowed three runs over five-plus innings in the 3-1 defeat.
He allowed four hits and five walks with four strikeouts. Even still, what really hurt Greinke were the solo home runs he allowed to Cody Bellinger and Austin Barnes. The latter of which led to Greinke's exit after one batter in the sixth inning.
Ryan Madson, Nationals
After coming over in a trade from Oakland, Madson became a key component in a struggling Washington bullpen. The setup man for the Kansas City Royals 2015 team, Madson made an appearance in four of the five games in the NLDS.
The Nationals missed Madson in the lone game in which the 37-year-old didn't feature. In Game 3, Washington carried a 1-0 lead into the seventh inning, but Chicago scored single runs in the seventh and eighth to take a 2-1 win.
In the games he did pitch, Madson struck out four, while allowing four hits, two walks and one hit-by-pitch. Despite those numbers, he only allowed one run in his four innings.
It wasn't enough to keep his team's season alive.