Another walk-off lifts the Kansas City Royals to victory against Chicago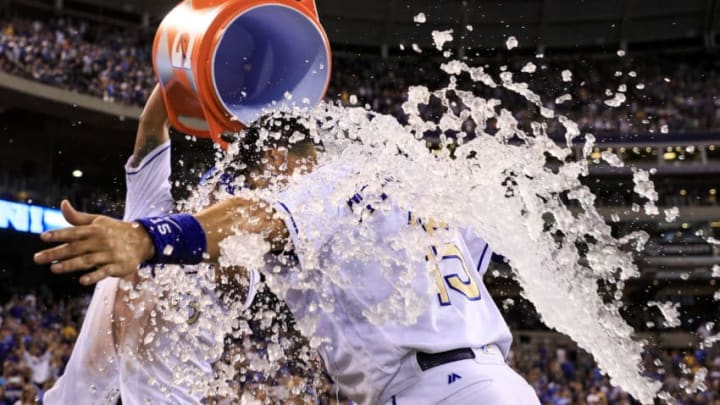 KANSAS CITY, MO - JULY 21: Salvador Perez #13 of the Kansas City Royals dumps water onto Whit Merrifield #15 after Merrifield hit the walk-off sacrifice fly to defeat the Chicago White Sox 7-6 in the tenth inning at Kauffman Stadium on July 21, 2017 in Kansas City, Missouri. (Photo by Brian Davidson/Getty Images) /
Whitley David Merrifield is the hero Kansas City deserves and needs. At least, he was (again) on Friday in a 7-6, extra-inning Kansas City Royals win.
Right as the winning run was coming across the plate for the Kansas City Royals Friday night, the great and powerful Rany Jazayerli tweeted the best definition of Whit Merrifield I've ever heard.
"Perfect," I thought. "You really couldn't offer better praise to a player, especially a member of the Royals."
Whit didn't start the season with the Royals. I argued that he should NOT get an All-Star nod, then that he (kinda) should. The truth is probably somewhere in between for a guy who just this week recorded his 600th career at-bat. But at a certain point, you get a reputation for coming through when it matters, and among Royals fans Whitley David Merrifield is gaining that reputation by the week.
Of course, a comeback only happens if you go down a certain number of runs, as was the case for the Kansas City Royals Friday night. Ian Kennedy won't look back fondly on this one as he staked the visitors to a 5-1 lead after three innings. The White Sox plated two in the second, with Avisail Garcia working a leadoff walk and scoring on a Yoan Moncada groundout. Following Garcia, Matt Davidson singled, advanced to second on Merrifield's error (so he's not completely infallible, sue me), went to third on Moncada's groundout and scored when Omar Narvaez singled to center.
Alex Gordon got the Good Guys on the board with an RBI single in the second, but Moncada drove in three more in the top of the third with a bases-clearing triple. Super-excited to have that guy in the division for the next seven-to-15 years.
The Kansas City Royals would show more spark in the fourth, plating three.
Mike Moustakas continued his assault on Steve Balboni's single-season home run mark, going to right for his season's 26th on the first pitch of the inning.
More from Kings of Kauffman
Merrifield tacked on two more with a double to left off Davidson's glove, scoring Gordon and Drew Butera. With a runner in scoring position and only one down, it was a prime opportunity for the Kansas City Royals to tie the game but Eric Hosmer went down swinging and Lorenzo Cain was snuffed out on a liner to Moncada (seriously, send him back to Triple-A).
A passed ball by Butera in the fifth plated Chicago's final run and finalized an insufferable line for Kennedy: four innings, six hits, six runs, five earned. So at least he should be moderately well-rested for his next outing. And fortunately for him, Alex Gordon's double off Old Friend James Shields in the home half scored Brandon Moss and Salvador Perez, tying the contest and removing Kennedy from the decision.
This seems like a good time to mention that, two days after Brandon Moss finally achieved mediocrity in getting his average above .200, Gordon's 3-for-4 night at the dish elevated him to .203 on the campaign—his first journey over the Mendoza Line since Tax Day. Upgrading Gordon, Moss and Alcides Escobar from "garbage fire inside a volcano inside nuclear fallout" to "merely below-average" is an incalculable step in the right direction.
[something something boring something something bullpen wasn't a disaster something something extra innings]
In the 10th, Neftali Feliz induced a tailor-made double play ball to snuff out a leadoff Jose Abreu single. When it was the Kansas City Royals turn, they did not disappoint, loading the bases via Esky leadoff single, Gordon single and Jorge Bonifacio walk.
The Pale Hose countered with a five-man infield, but they had to face Merrifield and mere mortals hold no sway over the Palmetto State Assassin. Whitley lifted one into the outfield to score Escobar with ease and give the Kansas City Royals a walk-off sac fly for the second time since Wednesday.
Did we get another #SalvySplash? What a ridiculous question.
Next: The KoK Official Levels of Concern
The Royals could go ahead and take the series tomorrow against Mike Pelfrey, which should be easy because he's terrible and always has been. All they need is a bounce back performance from Dr. Jason Vargas, fHD (Fooling Hitters Degree).