Seven Second-Half Questions for the Kansas City Royals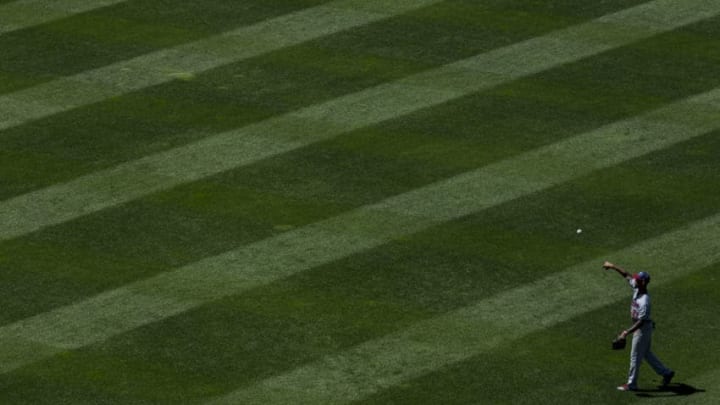 KANSAS CITY, MO - JULY 1: Byron Buxton #25 of the Minnesota Twins tosses a Kansas City Royals outfield hit back to the infield in the fifth inning during game one of a doubleheader at Kauffman Stadium on July 1, 2017 in Kansas City, Missouri. (Photo by Kyle Rivas/Getty Images) /
KANSAS CITY, MO – JULY 2: Eric Hosmer #35 celebrates with Rusty Kuntz #18 of the Kansas City Royals after connecting with a Minnesota Twins pitch during game at Kauffman Stadium on July 2, 2017 in Kansas City, Missouri. (Photo by Kyle Rivas/Getty Images) /
Can anyone take the reins at the Kansas City Royals top spot?
A roving band of miscast players at the top of the order (Whit Merrifield, Alcides Escobar, etc.) has left the Kansas City Royals with an egregious hole at the head of the proverbial snake. Whitley, Esky, et. al have produced a .207 average, a league-low 25 extra base hits and a wRC+ (34) that is worst in baseball by a wide margin—for the third straight season.
Which is why the Dee Gordon rumor has legs, not only for now but the future. Maybe Gordon doesn't walk like you wish for a leadoff hitter—or at all, tbh—but he can hit and he's got serious wheels. He represents a better alternative than #EskyMagic or Merrifield, who belongs in a lower-lineup role where he can thrive. And since the Marlins are a glorious disaster, there's a non-zero chance he could be had for little more than some Low-A prospects and Al Albuquerque.
But, should GMDM get trumped in a Gordon trade, the options are scarce. Right now, Raul Mondesi Jr. is a Quad-A player who is too good for Omaha but can't yet hack it with the big boys—can't force him into a playoff chase.
Three regulars can't hit, so they're out.
Moustakas, Jorge Bonifacio, Salvador Perez—not leadoff material.
That leaves Whit (who is, to quote Bryan Cranston in Argo, "The best bad idea we've had so far"), Lorenzo Cain (squint and you can kinda see it?) or Eric Hosmer.
Yeah. Eric Hosmer.
Not only does Hosmer lead the way in OBP (.374) among the regulars, his 3.80 pitches per plate appearance mark is right behind Cain (3.88) and Merrifield (3.90), neither of whom get on base at such a high rate.
A world where Eric Hosmer leads off a Wild Card game for the Kansas City Royals is a world I want to inhabit.