Royals MiLB: Josh Staumont Continues To Excel In AFL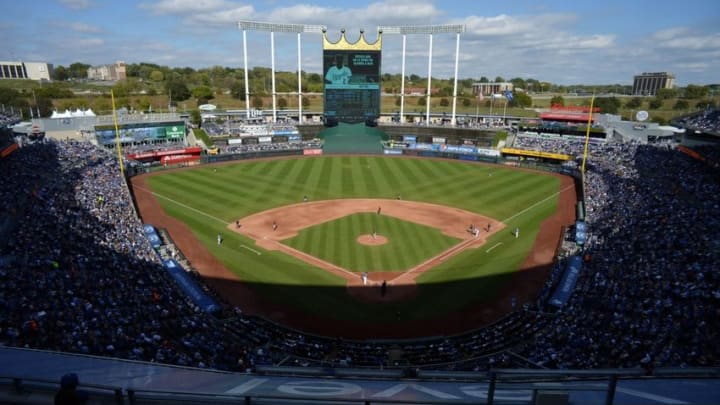 Oct 2, 2016; Kansas City, MO, USA; A general view of Kauffman Stadium in the fourth inning between the Kansas City Royals and Cleveland Indians. The Indians won 3-2. Mandatory Credit: John Rieger-USA TODAY Sports /
KC Royals AA prospect Josh Staumont showed drastic improvement in his command late last season. Dogged by wildness his entire career, Staumont tweaked his delivery. Staumont's newfound command has continued into his first two Arizona Fall League performances.
Anyone who has been regularly reading Kings of Kauffman should know that I'm excited by Josh Staumont. He's a 22-year-old Kansas City Royals prospect with an 80 grade fastball (the highest evaluation a scout can give). But, he has walked an unsightly 7.5 batters per nine innings in his minor-league career.
That number fell to a very acceptable 3.1 BB/9 in his last six starts of 2016 (including two starts in the AA playoffs for NW Arkansas). He paired that command with a flurry of strikeouts, whiffing 13.9 hitters per nine innings.
In his first two Arizona Fall League appearances, Staumont has allowed one walk in seven innings pitched. While Staumont has only struck out five, he has also given up zero earned runs for the Surprise Saguaros.
In the end, I'm less concerned about Staumont's results in the AFL than I am about his walks. If he keeps getting the ball over the plate, he becomes a pitcher that might help the Royals in 2017. His overpowering fastball, sharp curve, and drop off the table change is the kind of stuff that can make him a top-of-the-rotation starter.
More from Kings of Kauffman
Josh Staumont Could Affect Front Office Decisions
Staumont's performance might impact general manger Dayton Moore's decision-making this winter. Staumont can either become a starting pitcher candidate, or replace Matt Strahm in the bullpen—freeing the young lefty to move into the no. 5 slot in the rotation.
Moore believes a team requires eight to nine rotation candidates to begin the season. Consequently, the KC Royals will need to add depth this winter even if you consider both Strahm and Staumont potential starting pitchers. However, Staumont's emergence could kill the need for Moore to deal for an up-and-coming rotation arm.
At this point, the Kansas City Royals could have six rotation candidates in Danny Duffy, Yordano Ventura, Ian Kennedy, Jason Vargas, Matt Strahm, and Josh Staumont. Some might throw Chris Young into that mix. But, after his 2016 failure as a starter, I think he's a long reliever. Mike Minor could also become part of the picture. However, he's hard to count on after his rehab setback in 2016.
I think Moore needs to make at least one more depth signing for the rotation this winter. The easiest solution might be to bring back Dillon Gee on another one-year deal.
Next: Danny Duffy Most Likely Candidate For Extension
The above analysis presumes Josh Staumont's improved command isn't a mirage. If he keeps getting the ball over the plate, he could have a significant impact on the KC Royals decisions this winter.