KC Royals Are Ready For Sprint To The Finish Line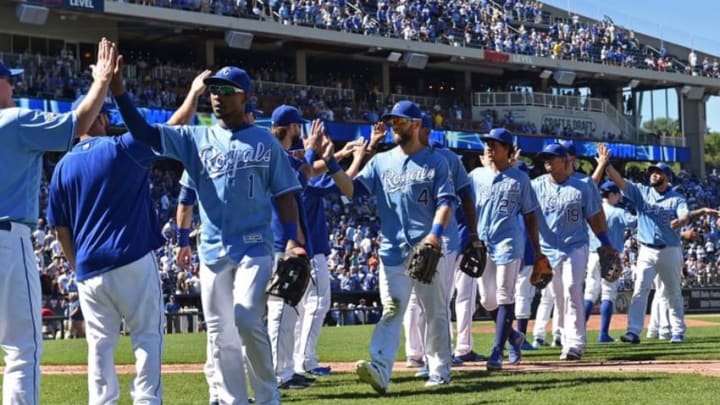 Aug 21, 2016; Kansas City, MO, USA; The Kansas City Royals celebrate after defeating and sweeping the Minnesota Twins at Kauffman Stadium. Mandatory Credit: Peter G. Aiken-USA TODAY Sports /
Aug 21, 2016; Kansas City, MO, USA; The KC Royals celebrate after defeating and sweeping the Minnesota Twins at Kauffman Stadium. Mandatory Credit: Peter G. Aiken-USA TODAY Sports /
Nineteen. After a historically bad 7-19 July, the Royals have rattled off 19 wins in the month of August with still three games to play. The hottest team in baseball this month, Kansas City is officially back in the playoff hunt for a fourth-consecutive season.
Many things have changed since July 31, when Kansas City sat at 49-55, 12 games back from division-leading Cleveland. The Indians have struggled to a 13-14 record in August, and second-place Detroit has done little better at 12-13. At 19-7, the Royals have cut 6.5 games off the division lead in just 28 days.
Pitching has everything to do with it. In July, Kansas City's pitchers ranked 28th out of 30 teams with a 5.27 ERA. Entering Monday's series with the New York Yankees, the Royals were tied with Chicago Cubs with the best August ERA at 2.54. The Pittsburgh Pirates, with a 3.19 ERA this month, is a distant third.
Notice that both the Pirates and Cubs play in the National League where the pitchers hit. The closest American League club is the Detroit Tigers, with a 3.49 ERA.
It's certainly a far cry from July, in which the KC Royals pitchers got rocked for a 4.91 ERA.
Kansas City has had great production out of both its starters and its bullpen. So far this month, Brian Flynn, Matt Strahm, and Chris Young have combined to throw 31.1 scoreless innings. From Aug. 10 to Aug. 26, the bullpen threw 41.1 consecutive scoreless innings to set a new franchise record. No bullpen had accomplished that feat in 50 years.
Next: The Rotation