KC Royals: Ten Things That Have Gone Right In 2016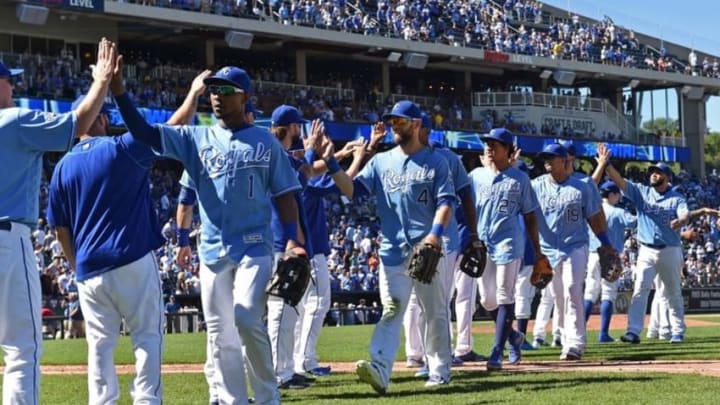 Aug 21, 2016; Kansas City, MO, USA; The Kansas City Royals celebrate after defeating and sweeping the Minnesota Twins at Kauffman Stadium. Mandatory Credit: Peter G. Aiken-USA TODAY Sports /
Aug 15, 2016; Detroit, MI, USA; Praying Mantis in the dugout of Kansas City Royals during the seventh inning against the Detroit Tigers at Comerica Park. Mandatory Credit: Rick Osentoski-USA TODAY Sports /
2. Rally Mantis Joins Team
Yeah, I know. Rally Mantis is just a stupid bug. But, the Kansas City Royals season turned around when one of the staff members rescued a large praying mantis from the clubhouse trash on August 6. The mantis lighted on center fielder Billy Burns hat, then ended up prodding club vice-president Mike Swanson's back with one of its front legs.
More from Kings of Kauffman
The Kansas City Royals broke a three-game losing streak that night while scoring more than three runs for the first time in ten games. When the KC Royals offense produced seven runs and won the next day, the team adopted the praying mantis as a good luck charm. Fans on Twitter dubbed the insect #RallyMantis.
The Royals went 5-1 with Rally Mantis, and even took their new clubhouse pet with them on a road trip to Minnesota. Unfortunately, Rally Mantis died. The team then went 1-1 after Rally Mantis left the building.
Rally Mantis II
The whole Rally Mantis thing might have faded away had not ANOTHER praying mantis lighted on top of the KC Royals dugout in Detroit. Kansas City won 3-1 that night, and have reeled off seven more straight victories since for a season-high eight-game winning streak.
Dubbed Rally Mantis II, the team has provided him with a new cage. Center fielder Billy Burns has researched the internet about how to care for a pet praying mantis, and has become the mascot's designated keeper.
Yes, I know. It's a silly superstition. The players know it, too. But, that stupid bug might be more important than most of us want to admit. One of my favorite psych experiments involves researchers telling amateur golfers that their putter was used by a golf pro. That meaningless information made subjects see the hole as bigger and improved performance compared to a control group who was not told that information.
In short, Rally Mantis might have been just what the KC Royals needed to believe that things could go different than their awful July. One of the toughest things about a losing streak is breaking out of the mindset of failure. That's how Rally Mantis I and II helped the team.
Next: No. 1