KC Royals: 5 Things KC Must Do To Sneak Into Post-Season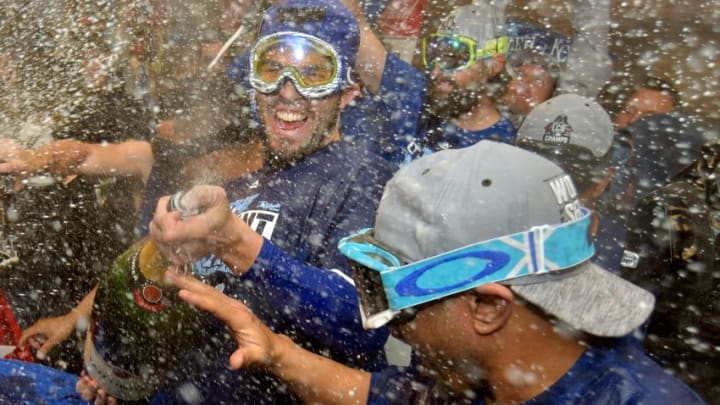 Oct 23, 2015; Kansas City, MO, USA; Kansas City Royals first baseman Eric Hosmer (left) sprays champagne in the clubhouse to celebrate after defeating the Toronto Blue Jays in game six of the ALCS at Kauffman Stadium. Mandatory Credit: Denny Medley-USA TODAY Sports /
Jul 9, 2016; Kansas City, MO, USA; Mandatory Credit: Denny Medley-USA TODAY Sports /
First baseman Eric Hosmer and catcher Salvador Perez carried the KC Royals offense in the first half of the season. Hosmer slashed .299/.355/.476 with 13 home runs before the All-Star break, while Perez chipped in with .283/.318/.500 with 14 dingers. Both players earned All-Star nods.
More from Kings of Kauffman
And now, both have crashed in the second half.
Eric Hosmer is hitting a miserable .192/.246/.292 in the second half, despite Tuesday's tape measure home run that flew and estimated 443 feet. Perez hasn't been any better, hitting .183/.206/.298. Because Hosmer and Perez are two out the three hitters that form the meat of the KC Royals lineup (along with Kendrys Morales), that's a big drag on the offense.
Hosmer And Perez Just Need To Hit Better
Hosmer has adjusted by moving away from home plate to prevent pitchers from jamming him on the inside. Meanwhile, Perez's swoon looks more like his typical second-half slide due to fatigue. The fact is, Perez is still catching too many games. With back-up Drew Butera hitting .282/.333/.513, Ned Yost needs to find more off days for Perez.
In the end, this one is pretty simple. Eric Hosmer and Salvador Perez simply need to hit better. The Kansas City Royals can't expect to get repeated 0-fer's from the heart of their order and continue to win.
Kansas City needs to boost their runs per game to well over 4.00, up from their current 3.91. But the hopeful news is that pitching staffs tend to wear down late in the season, which just might give the KC Royals offense the edge it needs.
Let's hope we see more tape measure home runs from Eric Hosmer and Salvador Perez in the final six weeks of the 2016 season.
Next: Thing No. 1