Royals Whispers: Jon Jay Is A Possible Trade Target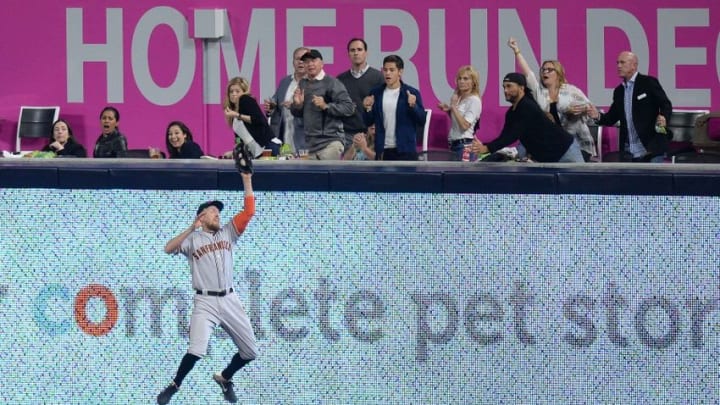 May 19, 2016; San Diego, CA, USA; San Francisco Giants right fielder Hunter Pence (8) catches a ball hit by San Diego Padres center fielder Jon Jay (not pictured) during the sixth inning at Petco Park. Mandatory Credit: Jake Roth-USA TODAY Sports /
Royals outfielders Paulo Orlando and Brett Eibner continue to get the job done despite limited major league experience. If they falter, San Diego Padres center fielder Jon Jay could become an option.
Boston Globe columnist Nick Cafardo mentioned the Kansas City Royals as a possible landing spot if Padres general manager A.J. Preller makes the decision to become a seller at the trade deadline.
Preller's Padres are a disappointing 29-42. His team is loaded with veterans that he acquired to make a playoff push before the 2015 season, and lack the deep pool of young players required to build a winning core. Worst of all, the Padres are a team that simply have little, to no, chemistry.
Blowing it up makes sense, if Preller can accept that his grand plan to contend from day one of his regime has failed.
The 31-year-old Jon Jay is a prime target to ship out once Preller accepts reality. He can play all three outfield positions and is having a nice comeback season after a horrible 2015. The Padres bought low on Jon Jay after the former St. Louis Cardinals regular slid to a .210/.306/.257 season in which he never really got going.
More from KC Royals Rumors
Jay is hitting a much more typical .296/.345/.407 in 2016, with 24 doubles, 2 home runs. He's not a home run guy, but he does possess gap power along with good range in center. However, he's strikes out a lot more than you'd expect from a guy with his modest power with a 21.4% rate this season.
Frankly, both Paulo Orlando and Brett Eibner are playing better than Jon Jay right now. However, neither of the two KC Royals outfielders have much of a major-league track record. Orlando is in his second season with the big club, and only has 391 career at bats. Meanwhile, Eibner is a rookie with a grand total of eight games on his big league resume.
Both players could turn into a pumpkin at any time, which is where Jon Jay begins to make sense. He's in the last year of his contract, signed at a reasonable $6.8 million for 2016. As a rental without home run power, his price in prospects should be reasonable, yet he can still provide reliable production for a team like the Kansas City Royals who play in a big home park.
Next: KC Royals Top Trade Targets After Losing Moustakas And Gordon
At this point, with the KC Royals offense on a hot streak and young players like Whit Merrifield, Cheslor Cuthbert, Paulo Orlando, and Brett Eibner producing, there is little need to acquire a player like Jon Jay on the trade market. But, that analysis could change over the next six weeks before the August 1 trade deadline.