Royals Report: 5 Things About Salvy Slam Over Cleveland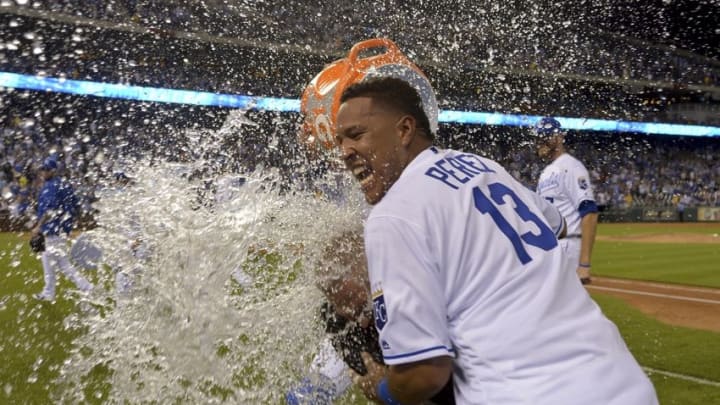 Jun 14, 2016; Kansas City, MO, USA; Kansas City Royals catcher Salvador Perez (13) and Fox announcer Joel Goldberg are doused by catcher Drew Butera (9) after the win over the Cleveland Indians at Kauffman Stadium. The Royals won 3-2. Mandatory Credit: Denny Medley-USA TODAY Sports /
Jun 14, 2016; Kansas City, MO, USA; Kansas City Royals catcher Salvador Perez (13) and Fox announcer Joel Goldberg are doused by catcher Drew Butera (9) after the win over the Cleveland Indians at Kauffman Stadium. The Royals won 3-2. Mandatory Credit: Denny Medley-USA TODAY Sports /
The Royals won their fourth straight game when catcher Salvador Perez slammed a two-run home run in the eighth to give KC a 3-2 victory over the Indians at Kauffman Stadium Tuesday night.
The KC Royals improve to 34-30 and have pulled within one game of the Indians in the AL Central. The Indians fall to 35-29, and remain in first place one game over the Kansas City Royals.
Whit Merrifield tied the game at 1-1 after he answered a solo shot by Carlos Santana with a dinger of his own. Merrifield's blast was his second in the last two days and are the first two home runs of his major league career.
Add in solid defense along with good base-running, and Merrifield looks like a complete, polished player as a rookie. Can you believe the KC Royals left him exposed to the Rule 5 draft? Any team could have claimed him for the $50,000 draft fee. The Kansas City Royals are fortunate no one seized the opportunity.
Clearly, the KC Royals made a mistake last winter. But I guess Whit Merrifield doesn't much care right now.
On to my observations about Tuesday's game:
Next: Chris Young