Royals Report: 4 Things About Breaking The Losing Streak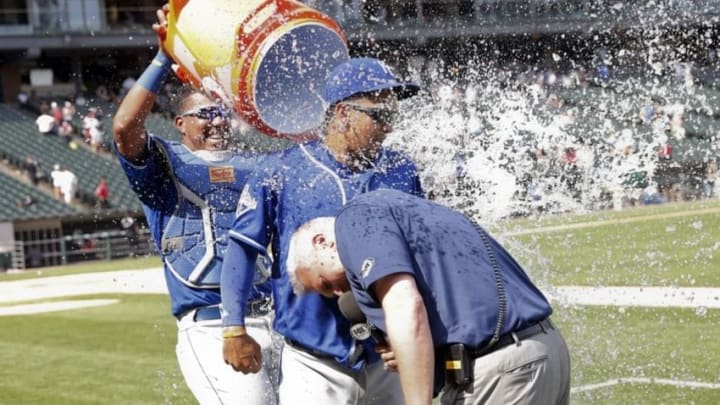 Jun 11, 2016; Chicago, IL, USA; Kansas City Royals catcher Salvador Perez (left) dumps water on teammate third baseman Cheslor Cuthbert (middle) as Joel Goldberg interviews him after a 4-1 win against the Chicago White Sox at U.S. Cellular Field. Mandatory Credit: Kamil Krzaczynski-USA TODAY Sports /
Jun 11, 2016; Chicago, IL, USA; Kansas City Royals relief pitcher Wade Davis (17) celebrates a 4-1 win against the Chicago White Sox with catcher Salvador Perez (13) at U.S. Cellular Field. Mandatory Credit: Kamil Krzaczynski-USA TODAY Sports /
1) Yes, Using The Best Bullpen In Baseball Is A Good Idea
Twice, Ned Yost had the opportunity to use the best bullpen in baseball during the eight-game slump. The first time came against Cleveland with the KC Royals holding a 4-3 lead in the 9th inning, poised to win their seventh straight game.
More from KC Royals News
Yost chose to rest Wade Davis rather than use him for a third straight game, and saw Joakim Soria blow the Royals first game after a seventh inning lead for the 2016 season. Five days ago, Duffy had held the Orioles scoreless through six innings with a precarious 1-0 lead. Yost sent Duffy back to the mound in the bottom of the seventh, only to watch the Orioles blast two solo home runs on their way to a 4-1 comeback victory.
This time, Ned Yost wasn't taking any chances and called on his three-headed monster despite Duffy's low pitch count (88).
It's about freaking time. Failing to use the bullpen when he had the chance to end a horrific cold snap would have been gross negligence. Making this mistake five days ago was bad enough. If Yost had repeated it today, I think I might have turned my flat-screen TV into a piñata.
Next: Could Trying To Fill No. 1 Pitcher Role Cause Yordano Ventura To Fail?
So, KC Royals fans. The baseball world is realigned to its proper axis. You can watch a Kansas City Royals game without undue anxiety, stress, or frustration. Maybe you can even smile at children again, and pet the dog.
That's a relief.