Kansas City Royals Swarmed By Bees Again During Spring Training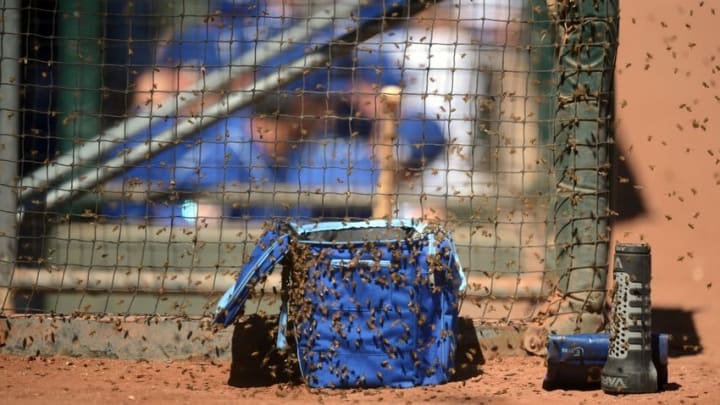 Mar 8, 2016; Surprise, AZ, USA; Bees swarm an equipment bag during the second inning of the game between the Kansas City Royals and the Colorado Rockies at Surprise Stadium. Mandatory Credit: Joe Camporeale-USA TODAY Sports /
No, the Kansas City Royals were not living through one of Nic Cage's nightmares. It just looked like they were yesterday.
There are certain movies that belong at the pinnacle of cinematic excellence. Gone with the Wind, Saving Private Ryan and the first Godfather movie, among others, are considered to be some of the best movies ever created. Then we have Wicker Man, whose 2006 remake starring Nic Cage was truly quality cinema, and may have had the best death scene this side of Paul Reubens in the Buffy the Vampire Slayer movie.
Yesterday, for the second consecutive year, one could forgive the Kansas City Royals if they thought that they were involved in the filming of Wicker Man 2: The Ghost of Cage. Once again, a swarm of bees descended upon the field, this time congregating on an equipment bag during the first and second innings.
More from KC Royals News
Last year, the bee intrusion was met by what manager Ned Yost referred to as "mass bee genocide," as the swarm was exterminated, perhaps as vengeance for Cage's untimely demise. This time, however, it was the swarm who had a happy ending, as they were protected by Yost until a retired beekeeper who happened to be at the game saved the swarm.
While one can make the case that Edinson Volquez dominating the Rockies or Bubba Starling hitting an inside the park home run were the stories of the game, the true story is that the bees were saved. Given how bees have been dying off over the past decade or so, each swarm that is saved is a big step towards rebuilding the population. Of course, it certainly helps that Cage was apparently not at the game; otherwise, the outcome could have been much different.
Next: Royals look to resurrect Jon Denney's career
It appears that the Kansas City Royals have a new tradition during Spring Training. Chances are, next year, the bees will make their presence felt once more. And hopefully, another retired beekeeper will be in the crowd, waiting to save the swarm.