KC Royals: Should Slow Spring Start Concern KC Fans?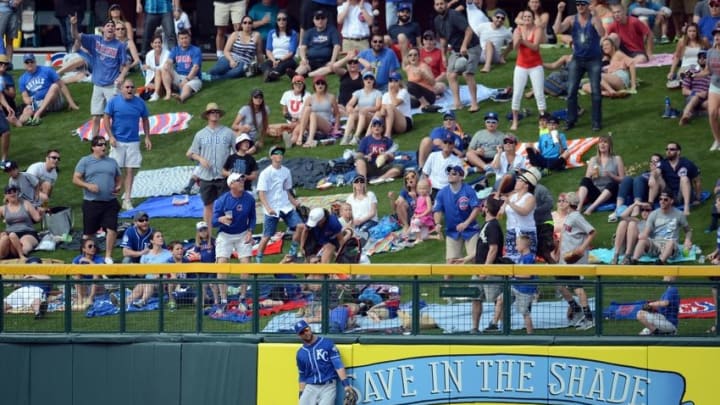 Mar 7, 2016; Mesa, AZ, USA; Kansas City Royals left fielder Alex Gordon (4) is unable to catch a home run ball hit by Chicago Cubs second baseman Addison Russell (not pictured) during the fifth inning at Sloan Park. Mandatory Credit: Joe Camporeale-USA TODAY Sports /
The KC Royals have stumbled to a 1-4 start to spring training. Is there any rational reason for Kansas City Royals fans to be concerned about their poor early performance?
Of course, conventional wisdom suggests that I should dismissively answer "no" while proclaiming that "spring training results don't count". And, yes, usually that's true. Even minimal research will show that numerous future World Series winners had awful records during spring training.
The only reason why I'm giving even a little credence to this question is that last spring the KC Royals reeled off six straight wins to open spring training. Aside from the results, last season I went to Surprise to see many early workouts and games in person and clearly felt the team's desire to show the baseball world that their 2014 American League pennant wasn't a fluke.
Their confidence, and annoyance about the perceived lack of respect, emanated from KC Royals players in waves.
In 2016, however, the attitude isn't quite the same. Sure, the players told the Kansas City Star that they were still hungry. And the Kansas City Royals exude the confidence of a team that has won 22 playoff games, two pennants, and one championship over two seasons. Yet, they don't have that slightly "pissed off" vibe I felt last spring—and seemed obvious during the early season brawls that unfairly labeled them as "the Bad Boys of Baseball".
Yes, most sabermetric systems still see the Royals as one of the worst teams in the American League. Yet, it's hard to muster up the same kind of "no respect" narrative when even the creators of those metrics think they're a joke. For example, Baseball Prospectus' staff predicted an average of 88 wins for the Kansas City Royals in 2016, rather than the 76 wins their own PECOTA system projects.
More from Kings of Kauffman
So, yes, I think the KC Royals won't quite have the same chip on their shoulder in 2016 as they did in early 2015. However, I don't think it will stop the Kansas City Royals from winning the AL Central in 2016. For one, the Royals posted the best record in the American League after their early emotion wore off. Kansas City only suffered through a losing record in September, when they had already seized an 11 game lead in the Central.
Also, take a look at WHY the KC Royals dropped their first four games. Opponents beat up on pitchers that are unlikely to pitch for the big club during the regular season. Danny Duffy gave up three runs in 2.0 innings of work for an unsightly 13.50 ERA, but the next worst ERA from a guy expected to play a major role in 2016 is Edinson Volquez with a 5.40 ERA in a whole 1.2 innings.
Somehow, I'm not at all concerned that Brooks Pounders has a 18.00 ERA, Ross Ohlendorf has a 22.50 ERA, or Christian Binford sits at 13.50 ERA after five spring games. Those guys are ticketed for AAA Omaha no matter what they do this spring.
Next: Will Eric Hosmer Finally Elevate His Game?
The bottom line is that the 2016 KC Royals might not be quite as chippy as they were in 2015, but I don't believe there's anything to worry about.