Kansas City Royals Still the Class of the AL Central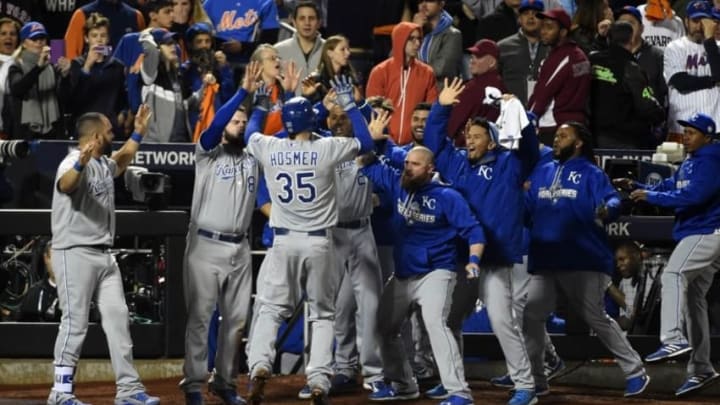 Nov 1, 2015; New York City, NY, USA; Kansas City Royals first baseman Eric Hosmer (35) celebrates with teammates after scoring a run against the New York Mets in the 9th inning in game five of the World Series at Citi Field. Mandatory Credit: Robert Deutsch-USA TODAY Sports /
Mandatory Credit: John Rieger-USA TODAY Sports /
Last year, the Kansas City Royals ended a thirty year drought between division titles. Can they remain atop the American League Central for a second consecutive year?
2015 was a truly magical season for the Kansas City Royals. Through much of the year, they had the best record in the American League, and fairly easily won their first division title since 1985. Armed with the number one seed and home field advantage throughout the postseason, the Royals went on to capture their second consecutive American League pennant in comeback fashion. That come from behind approach continued in the World Series, as the Royals brought home their first title in thirty years.
Now, as we approach Spring Training, the Royals are on the verge of creating a bit of creating a potential dynasty. With two consecutive appearances in the World Series, and last season's victory, Kansas City is poised to remain as the royalty of the American League. However, the first step to retaining their crown is to win the Central once again.
Can the Kansas City Royals stay on top of their division? Virtually every team in the Central made changes in an attempt to pull closer to the Royals and usurp the crown. So, let us go around the American League Central and look at the competition in our preseason rankings.
Next: These Tigers have been declawed