KC Royals Jonny Gomes Heading to Japan for the 2016 Season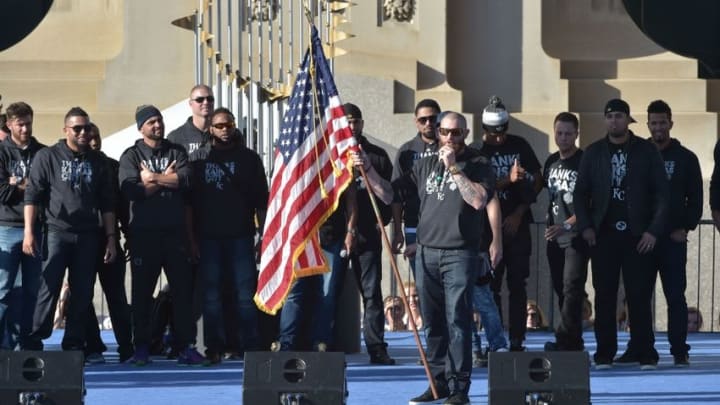 Nov 3, 2015; Kansas City, MO, USA; Kansas City Royals player Jonny Gomes speaks to fans during the World Series victory celebration on stage at Union Station. Mandatory Credit: Denny Medley-USA TODAY Sports /
Jonny Gomes will always have a special place in our hearts for being a part of the KC Royals World Series championship club last year. Now, he's off to conquer a new country.
Jonny Gomes is a lot of things. He is quite the character, almost cartoonish in a way, and may well have a future in professional wrestling when he is done with baseball. He is also quite an excellent teammate, and is considered a clubhouse leader.
Gomes may not hit, even against lefties, as well as he did in the past, but he has a knack for being a part of winning ballclubs. He has made the postseason in each of the past four years, winning two titles, as he was a part of the Red Sox championship squad in 2013. Although he did not get an at bat for the KC Royals during this past postseason, he was the person that Christian Colon gave credit to for keeping him ready when called upon in the 12th inning of Game Five.
Now, as Spring Training is fast approaching and Gomes has not attracted much attention in free agency, he is set to conquer a new land. Instead of waiting around and hoping for a major league offer, Gomes is off to the Land of the Rising Sun, having accepted a one year, $2 Million offer from the Ratuken Golden Eagles.
More from KC Royals News
This path to Japan has become much more common in the past few years. Several players have headed to Japan to rebuild their careers, coming back and proving to be effective major league contributors. Others have just never returned, dominating the Japanese Leagues and making that their home. With a mutual option for next year, Gomes is certainly keeping that option open.
Gomes also appears to be taking the Rex Hudler approach to baseball. Part of his interest in heading overseas to continue playing is to add to his resume, as he is looking to continue on in baseball after his playing days end. By taking the opportunity, Gomes will have a better background should he go into scouting, coaching, or even if he was to step into the broadcast booth.
Next: Royals keeping Alex Gordon considered best offseason move
Jonny Gomes may not have been a member of the KC Royals for long, but he certainly made a mark on the franchise. A proven winner, it would not be a surprise to see Ratuken contending for the title just because of Gomes' penchant for being a part of playoff bound teams.