Left field again a trouble spot for the KC Royals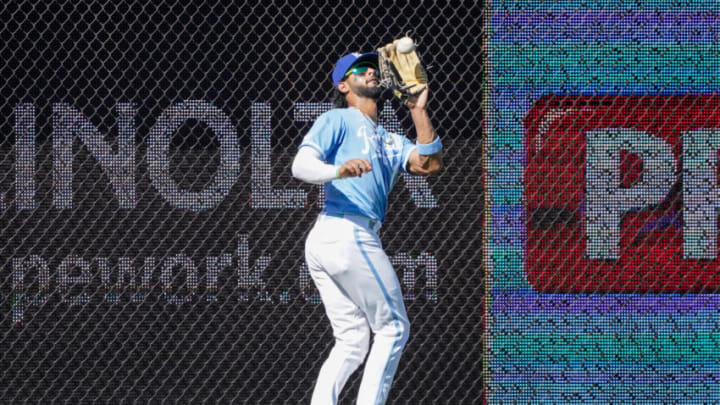 (Mandatory Credit: Denny Medley-USA TODAY Sports) /
For years, eight-time KC Royals Gold Glove winner Alex Gordon owned left field. No catch seemed too difficult for him, no runner safe from his amazing arm.
All good things come to an end, though, and they did for Gordon when he retired following the COVID-shortened 2020 season. It took a three-team trade between the Royals, Red Sox and Mets for the Royals to secure a suitable replacement—the club snagged Andrew Benintendi in the deal and he proved worthy by winning his own Gold Glove in 2021.
Not only because he played left field so well, but also because he hit .294 with a .351 OBP as a Royal, Benintendi made the club and fans happy. Yet, clearly expecting him to test free agency this winter, KC traded him to the Yankees July 27. (He chose to become a free agent Sunday).
Lacking a proven veteran replacement for Benintendi, Kansas City resorted to a left-field-by-committee approach. Kyle Isbel and MJ Melendez split much of the playing time, Edward Olivares played left five times, and others took occasional turns there. But no one player established himself as the hands-down starter.
So it is that left field, so long a strong position for the Royals, is now a bit of a problem.
Is Melendez the solution?
MJ Melendez isn't a perfect answer to the KC Royals' left field question.
Because he played left field more than any other position when he wasn't catching, he's presumably Salvador Perez's backup until Perez DH's more than he catches, and his 18 homers and 62 RBIs in 129 games as a rookie mean he needs to play regularly, it seems Melendez will be in left when the Royals open the 2023 season.
But assigning Melendez to the ground Gordon and Benintendi so effectively patrolled presents a mixed bag. Having his bat in the lineup, especially if he improves his .217 average (in fairness, his OPS+ was just a tick below average at 99) is the plus, his defense the minus.
Melendez simply isn't a good left fielder. At least not yet. His left field fielding percentage, albeit based on a small sample size of 47 chances, was .957, 28 points below league average, and, as a left fielder, he had a -3 DRS per FanGraphs. 
Can Melendez get better? Probably. After all, and despite the burden of an initially questionable glove early in his career, Gordon became an incredibly good defensive outfielder. And legendary Kansas City coach Rusty Kuntz, who had much to do with Gordon's defensive development, is still working for the club and could help Melendez find success with his glove.
Do the KC Royals have viable left field alternatives to MJ Melendez?
Melendez is one of a few internal Kansas City left field options—Kyle Isbel, Edward Olivares, Brewer Hicklen, and Drew Waters could all play there, as could Ryan O'Hearn and Hunter Dozier if they somehow survive offseason roster changes (they shouldn't).
Olivares, however, seems destined for a sustained shot at right field. Hicklen's power (28 homers at Triple-A Omaha this season) makes him attractive, but the Royals must decide whether adding him to the 40-man roster to protect him from the Rule 5 draft is, all things considered, the best move. Where Waters plays depends on the club's plans for Michael A. Taylor—center probably belongs to Waters the team trades Taylor this winter, or decides it's better with Taylor backing up Waters.
And Isbel? His unsettling .211/.264/.340 line and five home runs in 106 games suggest he's not a good everyday choice.
The Royals could also pursue a free agent left fielder, but should chase a good starting pitcher or two instead.
So, are there truly acceptable alternatives to Melendez? Maybe, but the more important question is whether the Royals should opt for someone else at Melendez's expense. Transforming Melendez into a good left fielder will take time, meaning the Royals will remain defensively weak at the position for at least the time being, but Melendez needs a position to play. His power is too proven—he led the minors with 41 homers in 2021, then clubbed 18 as a big league rookie this year—to waste it on the bench if he doesn't get an everyday place to play.
Is there another position option for Melendez? Possibly, if the Royals are willing to move Olivares, who should have the inside track to right field, to left. But he's a better fit in right. Melendez could also DH, but that spot will default primarily to first baseman Vinnie Pasquantino if Nick Pratto's bat shows up next season.
Left field, then, remains the best present alternative for Melendez if the Royals want him to play every day, and for them unless they trade for or sign a veteran and manage to find another regular position for Melendez. But playing him in left will come at a cost, at least in the short term.
For now, Kansas City should plan on MJ Melendez in left field.