KC Royals: Buck O'Neil getting another HOF chance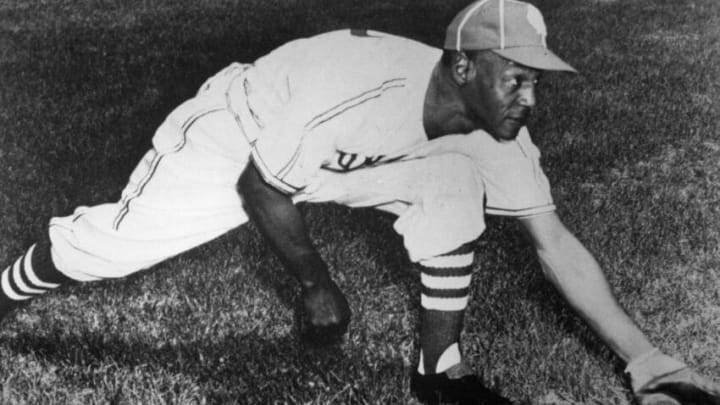 (Photo by Mark Rucker/Transcendental Graphics/Getty Images) /
The National Baseball Hall of Fame and Museum recently announced who will be on the Early Baseball Era and Golden Days Era ballots for 2022 induction. Fifteen years after missing election to the Hall, former KC Royals scout and baseball legend Buck O'Neil could be posthumously elected to Cooperstown.
O'Neil is one of seven Negro Leaguers on the Early Baseball Era ballot, which is based mainly on pre-1950 accomplishments.
According to the Negro League Baseball Museum, O'Neil had a career batting average of .288, including .300-plus seasons of .358, .345 and .330.
He was also a three-time All-Star and won the Negro League World Series with the Kansas City Monarchs in 1942, and more notable achievements occurred during his post-playing career, when he  managed the Monarchs, became the first black coach in the major leagues with the Chicago Cubs in 1962, became a scout for his hometown KC Royals in 1988, and was one of the founders of, and former chairman of, the Negro Leagues Baseball Museum in downtown Kansas City.
Despite all his accolades and successes on and off the field, O'Neil was never inducted in Cooperstown. Now, however, he has another chance.
Former KC Royals scout Buck O'Neil gets another Hall of Fame shot this year.
In 2006, the Hall of Fame considered Negro League candidates for Cooperstown. Although O'Neil looked like a lock for induction, he ultimately fell one vote short of getting in.
Despite not being elected at the time, O'Neil, then 94, still showed immense class in honoring the 17 Negro Leaguers that made the cut when he spoke on their behalf. He also told others upon learning of the heartbreaking announcement:
""Shed no tears for Buck. No, no. Ol' God's been good to me. You can see that, don't you? If I'm a Hall of Famer for you, that's all I need. Just keep loving ol' Buck.'""
O'Neil died not long after missing the Hall of Fame.
Interestingly enough, O'Neil is a part of Cooperstown, for the Hall of Fame created the Buck O'Neil Lifetime Achievement Award in 2008, the purpose of which is "to honor an individual whose extraordinary efforts enhanced baseball's positive impact on society, broadened the game's appeal, and whose character, integrity and dignity are comparable to the qualities exhibited by O'Neil." In the Hall is a life-size statue of O'Neil.
The Royals honor him with the Buck O'Neil Legacy Seat. Its purpose is to honor individuals around the community who've displayed a similar charitable spirit as O'Neil by seating them for a game in the seat he used for scouting (the only red seat in Kauffman Stadium). Kansas City's former Broadway Bridge was renamed the John Jordan "Buck" O'Neil Memorial Bridge in 2016; construction recently started on a replacement for the aging structure, which will retain O'Neil's name.
With his name on the Early Baseball Era ballot, O'Neil could finally get his chance to be rightfully honored with induction into the Baseball Hall of Fame, where he'd join fellow Kansas Citian and baseball legend Satchel Paige. Results of voting will be announced Dec. 5 at 6p.m. ET on MLB Network.
There's no doubt that O'Neil is worthy of being a Hall of Famer—his unwavering spirit certainly reflects the game of baseball.
Buck O'Neil, famous for his days as a KC Monarchs player and manager, former KC Royals scout, and Chicago Cubs coach, has another shot at being elected to the Hall of Fame.