KC Royals: The 2021 competition rules you need to know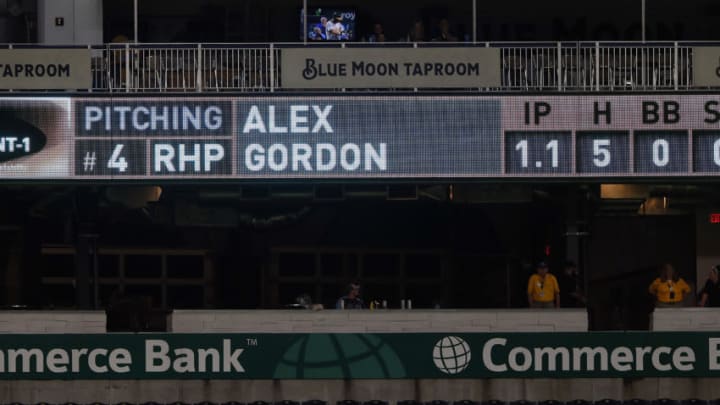 (Photo by Jamie Squire/Getty Images) /
What game conduct rules are "must know" for KC Royals fans this season?
With apologies to former KC Royals pitcher Zack Greinke, one of the rare pitchers who can actually hit, watching hurlers embarrass themselves at the plate is primarily painful. More often than not, especially when even pitchers find bunting more an annoyance than an art, a pitcher in the batter's box is a certain empty out. (Unless it's Greinke, of course, who's on the verge of becoming only the second pitcher in a century to hit 10 homers and steal 10 bases in a career).
Competing with pitchers with bats in their hands for the epitome of ballfield futility are position players pitching. Infielders, outfielders and catchers seldom have the technique or the stuff to do more than fail on the mound; fortunately, they're usually pressed into "service" when games are out of hand and managers run out of pitchers, or simply don't want to waste arms or risk injury to those who make their living throwing, not hitting.
Take for example, the mound appearance retired Kansas City outfielder Alex Gordon made in late August 2019. The Royals were down 15-3 when Gordon took over in the seventh inning; before he left four outs later, he'd given up three runs, five hits (including a home run), and walked one. Utility man Humberto Arteaga replaced Gordon and surrendered only a run. (For the record, infielder Chris Owings pitched once that season: Texas battered him in May for four runs and six hits (two homers) in 1.1 innings).
Gordon actually pitched again in August and, by giving up just two runs in an inning, lowered his ERA to 19.29. The Royals haven't allowed a position player to pitch since.
The collective mound mediocrity of Gordon, Owings and Arteaga probably had little to do with it, but baseball significantly limited non-pitchers' availability to pitch by adopting a rule after the 2019 season prohibiting them from taking the mound until after the ninth inning or when their team trailed or led by more than six runs, unless the non-pitcher had been designated as a "two-way player."
But the wisdom of the new rule gave way to COVID-19 concerns. It's never been officially implemented. And it won't be for the 2021 season—ignoring the provision is among rules governing game conduct, competition, and health and safety carrying over from last to this campaign. So, although Gordon, Owings and Arteaga are long gone from the organization, manager Mike Matheny is free to utilize position players if necessary. It just won't be pretty.
The three-batter rule is here to stay, but does it matter to the KC Royals?
Debuting last season, but unrelated to pandemic-driven changes to the game, was the controversial "three-batter rule" which required relief pitchers to face a minimum number of hitters. In a clear effort to speed up the game (whether it needs to be or not), pitchers had to pitch to at least three batters unless they became sick or injured, or retired the side, before doing so.
Whether it quickens game pace or not, the obvious effect of the rule is to diminish the role of lefthanded relief specialists typically called upon to retire a single lefty hitter. Back for 2021, the rule feels permanent, but doesn't significantly impact the Royals, who as of Thursday night counted only one full-time reliever, Richard Lovelady, on their 40-man roster. (Daniel Tillo threw 10 times out of the pen in the minors two seasons ago, but has typically started and is recovering from Tommy John surgery).
Extra innings will again begin with a runner at second base for the KC Royals
The look and feel of "free baseball" changed last season with the advent of the time-saving, game-shortening, so-called "runner-on-second" rule, requiring the placement of a runner at second base (where else?) before even a single pitch is thrown. And no matter how controversial it was and is, or whether it will survive for a third season, it's back for 2021.
Putting a runner at second (the player who made the final out of the previous inning or a pinch runner) can reduce game length and player fatigue, both important pandemic-related considerations, and it certainly ratchets up extra-inning drama and tension. But it may be a bit much for purists and traditionalists.
Look for recent Royal returnee Jarrod Dyson, still speedy at 36 (37 in August), to be utilized as an extra-inning pinch runner, which may mean Kansas City may decide to carry a fifth outfielder for late-game defense so Matheny can preserve Dyson for running duty in close games.
The KC Royals will again play short game doubleheaders this season
All big league doubleheaders were modified to a pair of seven-inning contests last season and will be again in 2021. Like the runner-on-second rule, short game twinbills provide the benefits of reducing workday length, physical fatigue, and bullpen stress.
No expanded playoffs or universal designated hitter for the 2021 campaign
Major League Baseball (the clubs) and the Major League Baseball Players Association (the union) couldn't reach agreement on expanding the playoffs or making the designated hitter universal this season, so neither feature of the shortened 2020 season carries over to this year. The KC Royals will make do with the DH rule (their pitchers have to hit in National League parks during interleague play, although they won't face designated hitters in those venues), but probably find the playoff situation disheartening.
The majors expanded postseason eligibility last season from 10 to 16 teams, but will move back to 10 for 2021. That means Kansas City, which with its improved club might be able to sneak into a larger playoff field, will probably miss October baseball again. Without another boost to their rotation, the offseason moves the Royals made might not be quite enough.
The KC Royals face their second season with relatively new rules. Most carried over from their inaugural 2020 campaign.