A slow market may be the KC Royals best friend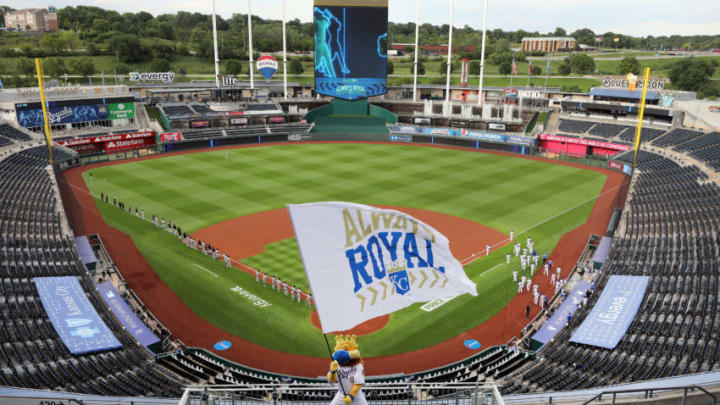 KC Royals (Photo by Jamie Squire/Getty Images) /
The KC Royals will be looking for free agents who can make an impact. With a market that may be slow, the team could cash in with some good deals.
What the KC Royals will do over the offseason is always a mystery. Sometimes they talk about the players they need, sometimes they are quiet. Typically in the end, though, there are a few reclamation projects brought in, and maybe a major league contract or two.
While there is no reason that this offseason would be any different, there is every possibility that it could be.
Royals fans are still in uncharted waters with the new ownership group. While most know how Dayton Moore works, things could change with a new set of owners. It's possible the team will throw more money around this offseason with the desire to win now growing.
If this is true, the market that baseball might see this offseason could play right into the Royals' hands.
Because of the short season with no fans in the stands, many have questioned the financial status of baseball and the many teams included within it. Along with this, there have been speculations that some players might not command in a free agency what they would in any other normal year.
Recently, Bleacher Report shared a piece detailing picks from Zachary Rymer that might struggle during free agency. What the title could read, though, is players who the Royals may not have been able to afford but now might have a shot with.
The piece goes through 10 players who have a good shot to get picked up but are likely to see less than desirable offers, and for teams like the Royals, the players presented could be seen as gold.
The Royals aren't typically big spenders. If there was a World Series in store for Kansas City in 2021, maybe, but that's just not the case.
The Royals are likely one of many teams who are seeing some financial differences going into this offseason, and players who may be willing to take lesser deals due to a lack of offers is just what they need to start building up the team for contention.
In the piece, Rymer suggests players like Robbie Grossman, reliever Alex Colome, Jackie Bradley Jr., starter Taijuan Walker, and Marcell Ozuna.
While it's unlikely the Royals will be able to land Marcell Ozuna, and Rymer even suggests he will still see a good payday, some of the other options might not be completely off the table.
Jackie Bradley Jr. could be a good pick up to help add a needed strong presence in the outfield, and Alex Colome would be an interesting reliever to plug into the already surging Royals bullpen.
Even in a recent offseason where there was no short, financially drained season, pitcher Dallas Keuchel had to wait until he was finally picked up. If that is any indication of how free agency has been going, there is no telling what is in store for this offseason.
While it's not necessarily a good thing that players have to worry about being signed at all, for teams like the Royals, offseasons like this help to level the playing field.
The Royals may or may not be open to spending some more money, but even if they still want to keep the spending low, there may just be some better options looking for a spot on what could be a very slow market.
A recent article from Bleacher Reports suggests some players might see a decrease in pay this offseason. For the KC Royals, this could be something to take advantage of.