3 plays that defined Alex Gordon's career with KC Royals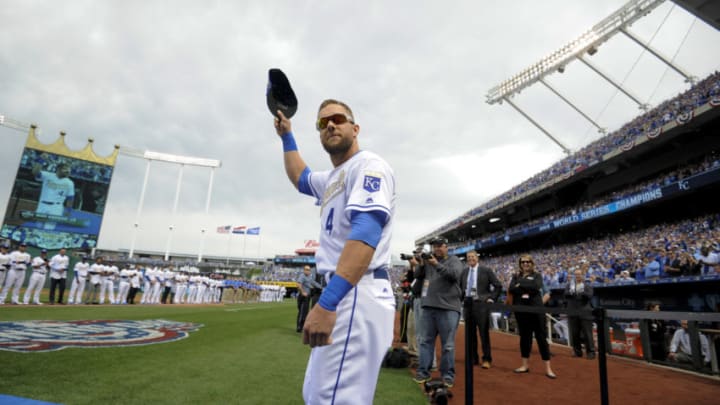 (Photo by Ed Zurga/Getty Images) /
KC Royals, Alex Gordon (Photo by Ed Zurga/Getty Images) /
Most players do not spend 14 years in the majors, much less all with the same team.  The KC Royals were fortunate to have this player pull it off.
It started with Alex Gordon being selected second overall in the 2005 amateur draft from the University of Nebraska.  The excitement of a nearby college star who played third base, batted left-handed, and threw with his right brought the nostalgia of a certain KC Royals icon, George Brett.
A tough and unfair comparison for any player to live up to.  Gordon appeared to be up to the challenge his first three professional seasons though.  A full season at the Double-A Wichita Wranglers (I was lucky enough to see him play) led to a minor league player of the year award with a .325 average, 29 home runs, 22 stolen bases, and an amazing 1.016 OPS.
His rookie year in the majors was a bit rocky, but not at all bad and he improved in 2008 slashing .260/.351/.432. The wheels began to come off in 2009 when struggles with the bat and very concerning fielding at the hot corner led to just a .920 fielding percentage, well below the league average, earned Gordon a trip back to the minors.
""Alex, you are more than a teammate, you are my brother. You've represented our team and Kansas City for the past 14 years better than [anyone]. I am going to miss you so much brother! May God continue to bless you in your next chapter. #4evergordon" – Salavdor Perez mlb.com"
The transition to the outfield began in 2010 and while the hitting still was not solid the dedication Gordon put into learning his new position began to take form.  What followed were not only five seasons of an OPS+ rating of 103 or higher, but a place as one of the greatest left fielders of all time.
Seven Gold Gloves in nine seasons, three straight All-Star Games, and 51 assists from the OF during the 2011-2013 years.  The assist numbers would decline after that but only because teams made the wise decision to no longer test his arm.
While the last few years saw a dip in production at the plate, Gordon was still coming every day to the park, putting in rigorous workouts, and being a gracious contributor to the community.  Sadly the COVID pandemic will not allow KC Royals fans the opportunity to give number 4 a proper send-off in his last game but a standing ovation surely awaits him when he's inducted into the Royals Hall of Fame down the road.
In this article, we look at three plays that define the Alex Gordon Era.  There are so many to choose from, but these are ones that will be etched in Kansas City fan's minds for years to come.