KC Royals draft pick Ben Hernandez: "I want to get better"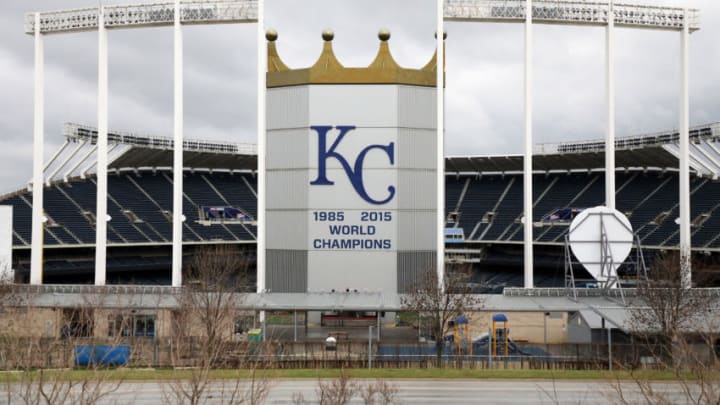 (Photo by Jamie Squire/Getty Images) /
Ben Hernandez may be just 18 years old, but he fully understands what it takes to be successful with the KC Royals organization.
The KC Royals had another successful draft this year. A lot of the reason why folks came away so impressed was how Dayton Moore did a good job balancing win-soon talent with high-ceiling pieces for the future. De La Salle Institute's Ben Hernandez was the team's second-round pick (41st overall), and he has as much potential as anyone.
Hernandez, a 6'2″, 205-pound righty, was previously a University of Illinois-Chicago commit. His 2019 season resulted in a 4-2 record with a 1.80 ERA and 67 strikeouts in 45 innings of work. He made Prep Baseball Report's All-State Second Team and pitched in both the USA Prospect Development Pipeline League and the U-18 Baseball World Cup as well. To top it all off, Hernandez competed in the Under Armour All-America Game and the Prep Baseball Reports Super 60. He's been a busy man over the past few years.
Hernandez boasts a low-to-mid 90s fastball and a lethal changeup. The changeup was perhaps the best in this year's prep class. Hernandez also has a curveball he's worked hard to improve and recently developed a cutter (more on that in a second). Kings of Kauffman's David Scharff broke down the pick, but I recently had the opportunity to talk with Hernandez and ask him some questions about the draft process, his recent experiences and what he's excited about. Our interview is below:
Q: Did you have any idea who was interested in you heading into the draft? What was going through your mind when you got drafted? How did it feel?
"A: "I kind of had a feeling… one of the scouting directors in the midwest for the KC Royals told me that the Royals were really interested in me and if I was available in the second round, they'd take me.The day of the draft… day two… this was, like, 11:50 in the morning. My aunt put me and my mom in a group chat together and she typed out a dream that she had. She dreamt that I got drafted by the Royals. So I read that and was like 'alright, I have nothing to worry about.'The process was like no other. I've seen it all the time on television when I was younger watching drafts and watching my buddies get drafted, but I was pretty pumped that it was going to happen to me.""
Q: Since the HS season got wiped out due to coronavirus, what have you been doing to keep on top of your game?
"A: "During bullpens, I'd mentally make a picture of who was at the plate so I could face them (mentally). So, like, Mike Trout's at the plate, tying run's on third base, he's the winning run, we're up by one, Game 7 of the World Series… that kind of stuff.Just kind of have that mental picture of who's at the plate so I have that same attitude of 'attack the hitter, get him out, throw your game and don't make an adjustment just because a specific hitter is at the plate.'""
Q: How helpful did you think things like the Prospect Development Pipeline League and the 18-and-under Baseball World Cup were for you and your game?
"A: "I got to learn what kind of player I was and what I was capable of. Coming from Chicago, I didn't really get a chance to go down to Florida, Texas or California to play against these great players or pitch against them… getting a chance to play that kind of style was really helpful and gave me more confidence for sure.""
Q: You're known for having that lethal changeup, but you also seem to have fixed some issues with your curveball and have developed a cutter. Tell me more about your pitch mix and how you plan to develop it.
"A: "Going through last summer, my curveball really wasn't consistent like my changeup. So this offseason I had to focus on developing a better curveball, cutter, slider, etc. and religiously focused on trying to throw a cutter or a slider. I'd been trying to throw them before the Super 60 in February so I could show the scouts that I want to get better and want to improve my game.The slider and the curveball are coming along well. The slider is up to 85 or 86 with good bite to it. I'm pretty confident in that for being another out pitch.""
Here's the story about how Hernandez's cutter came about:
Q: Your family is super important to you and was a large chunk of the reason why you committed to Illinois-Chicago. Growing up a Royals fan, I'm definitely proud of how the organization cares for its players. How does your family feel about you joining the franchise?
"A: "My mom put her heart and soul into me playing baseball. She wanted to make sure that I was going to a good organization. She was more concerned about my health and my well-being more than what team I went to. It turns out that KC was at the top of her list. She really liked KC.""
The KC Royals actually sent Hernandez's mom flowers after he was drafted:
Q: What are you most excited about for the next few years?
"A: "I like the grind part. Just starting from square one again and carving my way back up. That's just the kind of person I am… I believe that once this new draft group comes in, we're going to win this World Series and no matter how long it takes, we're going to be back.""
I'd like to thank Ben Hernandez for taking some time out of his day to speak with me and answer some questions. Follow him on Twitter @Ben_Hernandez17 and keep it here at Kings of Kauffman for more KC Royals draft prospect coverage. Coming soon: Will Klein!