KC Royals are dominating the undrafted free agent market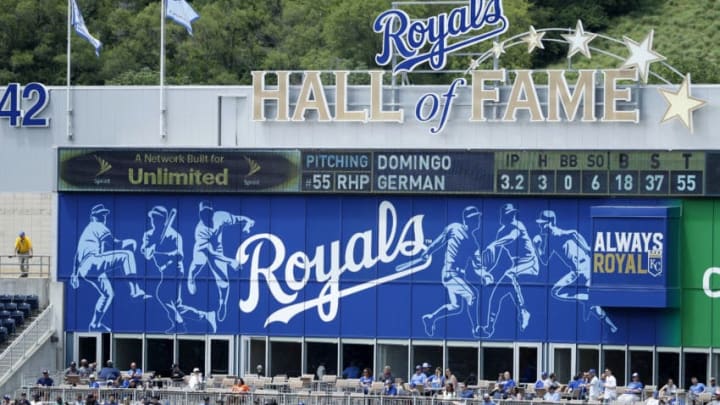 (Photo by Joe Robbins/Getty Images) /
As expected, the KC Royals' reputation as a quality and caring organization is shining as the team signs undrafted free agents to deals.
Although the recent track record of success for the KC Royals may not be there, the overall reputation of the organization has remained consistently positive. There aren't many better-run franchises than the one that resides at Kauffman Stadium.
Heading into last week's MLB Draft, I wrote about how the post-draft pool of players should be banging down the door to join the Royals. Dayton Moore's commitment to developing relationships with prospects is second to none, and it's showing. After five rounds and six total draft selections, the league allowed Kansas City to begin working out deals with undrafted free agents on Sunday morning. The immediate benefits seem to be significant.
Baseball America has a running tracker displaying every team's latest signings. At the time this article was written, the Royals had six total names on their list. In addition to continuing to place a heavy emphasis on pitching, Moore signed a pair of catchers and also an outfielder. Let's take a look at the newest members of the organization:
Saul Garza was a 32nd-round draft pick by the Royals in 2019. He chose to return to LSU for another season and although his batting average took a huge dip to start this season, his power numbers remained consistent. His power potential is solid and while he may not be a tremendous defender behind the plate, it's entirely possible he figures things out enough to stick there. Garza's on-base ability will be what makes or breaks his career.
A bit later in the evening, the KC Royals signed another catcher: Kale Emshoff. After posting a .273/.377/.415 line as a sophomore at Arkansas, he upped that to a red-hot .417/.527/.800 to start 2020. He also clobbered seven home runs in just 17 games, boosting his draft stock (but ultimately, the five-round format cost him the opportunity to get drafted). Emshoff is more natural defender behind the plate than Garza, thus his ceiling is higher.
Texas Tech pitcher John McMillion is the third signee. His electric fastball can reach triple-digits and his 2019 season (67 strikeouts in 47.2 innings pitched) was all the Royals had to see in order to come away impressed by him. It seems to me that a big-armed kid from Texas Tech recently came to Kansas City. He plays football. You've probably heard of him.
After three tumultuous seasons with Washington State and a disappointing showing during the 2019 Cape Cod Baseball League, A.J. Block appeared to be putting the pieces together in 2020. In four starts for the Cougars, the 6-foot-5 lefty posted a 3.25 ERA in 27.2 innings pitched. Only time will tell if this recent improvement is a legitimate one.
Georgia's Tucker Bradley has some pitching experience, but it's expected that he sticks in the outfield long-term. He displayed tremendous on-base skills in college, hitting .317 over the course of his career. He started 2020 on fire, posting a .397/.513/.730 line while hitting six home runs in just 18 games.
Right-handed pitcher Chase Wallace is the Royals' most recent signing. The relief pitcher from Tennessee pitched primarily out of relief with the Volunteers, recording a career 3.91 ERA. His most recent work is more interesting, though. A 2.74 ERA in 23 Cape Cod innings in 2019 and four starts to begin the 2020 season may mean there's more to this signing than most think.
Stay tuned for continued updates on the KC Royals as they search for prospects to sign.