KC Royals: World Series champs face off in simulated game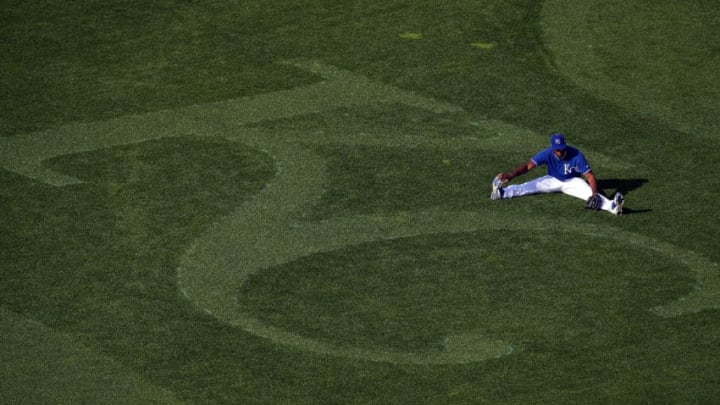 KC Royals (Photo by Ed Zurga/Getty Images) /
KC Royals fans can only hope that baseball will be back soon, but until then, there are still some good games available to watch.
For KC Royals fans and baseball fans everywhere, the status of baseball and the 2020 season seems to be continuously up in the air. While there is still hope for some sort of resolution, fans will have to wait and see what is ultimately decided.
If a 2020 season does start, there may be a lot of differences and it's possible that things will change leading up to, and through, the season, but baseball is baseball and it will be good to have it going again.
As most likely know at this point, while baseball has been on hold, most teams and media outlets have been playing games from the past. As always, the KC Royals have a new lineup this week, but tonight, June 15th, the week will be starting with something a little different than just a game from the past.
Tonight, fans can head over to the teams' social media sites, Facebook, Twitter, or YouTube, to watch a simulated game. The game will be simulated through MLB The Show and will provide an interesting lineup. It will be a match between the World Series Champions from 1985 and 2015.
While it's only a simulation, it should be interesting to see how the two teams stack up against each other.
Along with the simulation, there are plenty of other games to rewatch this week and relive some of the magic and memories. On June 16th, 17th, and 18th, fans can relive the 2015 ALDS with Games 2, 4, and 5 being shown on these dates, respectively, on Fox Sports Kansas City.
Also available on the 16th is Whit Merrifield's first triple and home run, and on the 18th, Danny Duffy's strikeout record, both being broadcast on 610 Sports Radio.
The schedule doesn't have anything listed for Friday, but on Saturday, fans can relive another great moment in Royal's history. 610 Sports Radio will be broadcasting Yordano Ventura's first complete game, a moment that many fans would likely love to relive.
Live baseball is not back yet, but luckily, the Royals are keeping fans entertained with some great games from the organizations history.
Be sure to tune in and relive these great moments, and keep checking back with the team for updates on when the 2020 season may get off to a start.