Kansas City Royals: Catching up with Jonathan Bowlan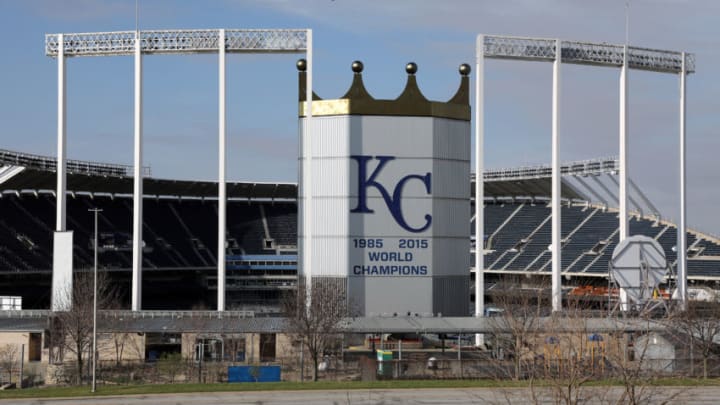 KC Royals (Photo by Jamie Squire/2020 Getty Images) /
(Photo by Lachlan Cunningham/Getty Images) /
Jonathan Bowlan nearly put the KC Royals' minor league system on the map with a historic performance.
While 2019 brought a lot of growth and improvement for Bowlan, one game stands out to me in particular when diving into his 2019 season. That game was back on July 15th against the Carolina Mudcats. The reason it stood out was that it was his first professional complete game. By the end of the game, he finished 9.0 innings, striking out nine batters, allowing zero hits, zero runs, and zero walks.
At first glance, a Perfect Game!
Unfortunately, not though. The Blue Rocks did have one error in the game, making it a complete game, shut out. Still incredibly impressive, considering he threw less than 100 pitches as well.
So I had to ask…
Q: Looking at your games from last year, on July 15th you had a no-hitter and the one error in the game was the difference between a no-hitter and a perfect game. What can you remember from that game? Were you aware of everything? Were you commanding all your pitches last night?
"I was aware of the no-hitter, but the butterflies hit me after the sixth inning and when that happened I just focused on one pitch, one out, and one breath at a time. After each inning I kept counting down the outs one by one starting in the 7th. I slowed the game down and trusted in my ability and my pitches. I was locating pitches down in the zone and getting weak contact. I do remember it very well."
The answer to this question brought to mind something Dayton Moore said last year when asked about bringing some of the college pitchers from the 2018 draft class to the big league level. He said he wanted to know not only how they handle the game when things are going right, but also how they handle adversity while pitching. He wants to know how each pitcher handles things mentally.
The fact that he was able to slow down the game and be mindful enough to recognize that he still had to execute each pitch for every out is very encouraging and should make Moore and the KC Royals organization very excited.