KC Royals: Mike Matheny is looking to play some baseball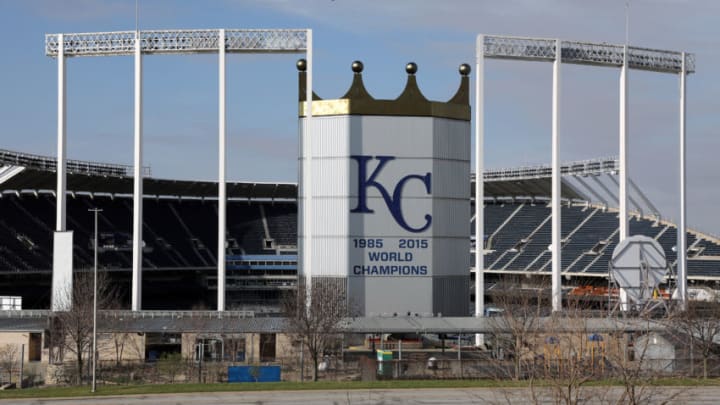 KC Royals (Photo by Jamie Squire/2020 Getty Images) /
While things may be uncertain for the KC Royals 2020 season, Mike Matheny is ready to do what he as to do to get baseball back on track.
Talk is continuing concerning the 2020 baseball season, and while it seems we may get the see the KC Royals in action at some point, it is still unclear as to when that might be. There have been plenty of plans and proposals talked about, but until something is concrete and approved by all sides, baseball will have to wait.
With talk about expanded rosters, a universal DH, realignments, and no telling what else, both players and fans could be wondering what the games will look like when the 2020 season finally returns. In a recent Zoom call with reporters,  Mike Matheny seemed to be looking towards the season and what they might have to change.
While talking about the rumors and plans that have been thrown around, Matheny had this to say:
""I'm listening to all of the ones that say we're going to play and none of the ones that say anything differently" -Mike Matheny, MLB.com"
It's obvious that Matheny wants to get back to playing the game and it's safe to say that Royals fans want to see their team in action as well. While he is listening more to the plans that have baseball coming back soon, Matheny is not looking the other way when it comes to changes that might come to the game.
During the Zoom call, Matheny mentioned some possible changes that could be a concern, such as what happens when a player is held at first base, along with the positioning at home plate of the batter, catcher, and umpire.
Matheny didn't seem too concerned with the home plate issue surrounding the catcher, but the position of the umpire is one that may have to be looked at a little deeper.
Holding a player at first, though, could cause some issues. It's normal to see players talking while on base, but with distancing concerns playing a part in the 2020 season, this likely won't be as common.
Matheny also raised the question of where the first base coach will be, and the possibility of having to have more signs coming from the third base coach when they have a runner at first.
There will be a number of issues that have to be addressed to hold a 2020 baseball season, but for the Royals, Matheny looks to have his mind focused in the right direction. He wants to get out and play, and he wants to continue workouts, but he also wants to ensure the safety of his players, and he is willing to make the adjustments and sacrifices needed to make the season happen.
Fans should keep paying attention as it seems that every day, the MLB is closer and close to a plan that will allow the season to begin. New reports are always coming to light, and while there may be many changes to the game, live baseball will be welcomed back.