KC Royals Rewind: The worst club in franchise history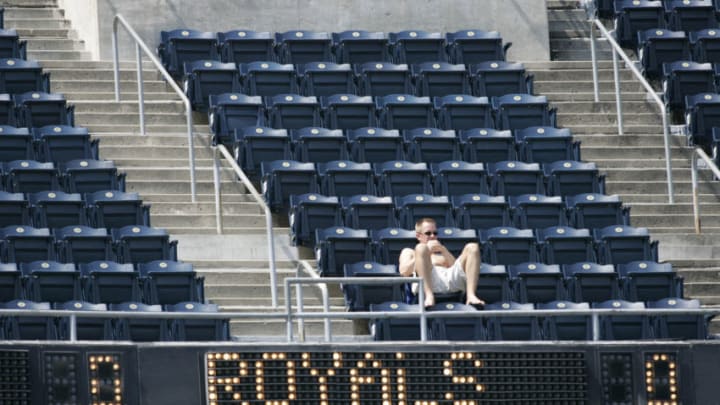 (Photo by G. N. Lowrance/Getty Images) /
(Photo by G. N. Lowrance/Getty Images) /
The KC Royals have suffered two straight terrible seasons. But the teams that lost over 100 games apiece weren't the worst in franchise history.
Sometimes lost in the misery of two consecutive 100-plus loss seasons is that the 2018 and '19 KC Royals teams that reached such lows were not the most dismal in franchise history. That dubious distinction belongs to the 2005 Royals, losers of 106 games in a season lost almost as soon as it began.
Serious and casual observers of the game can debate how best to assign "best" and "worst" labels to big league teams, but in the end, most wins determines the former and most losses determines the latter. Who wins the greatest number of games wins baseball championships, whether they be divisional crowns, playoff series titles or World Series championships. Glory never belongs to the team that suffers more losses than any other.
The 2005 KC Royals were the epitome of a bad team. There was little star power, not a great deal of offense, poor pitching, and a leaky defense. Many players were relatively unknown then and remain so now. The manager who began the season, Tony Pena, resigned in mid-May, thereby escaping (perhaps intentionally) a certain firing. His successor, Buddy Bell, finished the season but the club he took over lost 26 more games than it won under his watch.
That the Royals lost so many games wasn't shocking. They were beaten 104 times in 2004, an odd calamity considering they won 83 in 2003. Not much changed in the 2004-05 offseason, making a poor 2005 almost inevitable.
The Royals just couldn't find the right mix. They had three managers–Pena was first and resigned and coach Bob Schaefer took over temporarily until Bell took the "permanent" job. And almost 50 players (46 to be exact) found the field.
So how did the 2005 version of the KC Royals fare so poorly? Let's take a look.