Relive some KC Royals magic with this weeks game lineup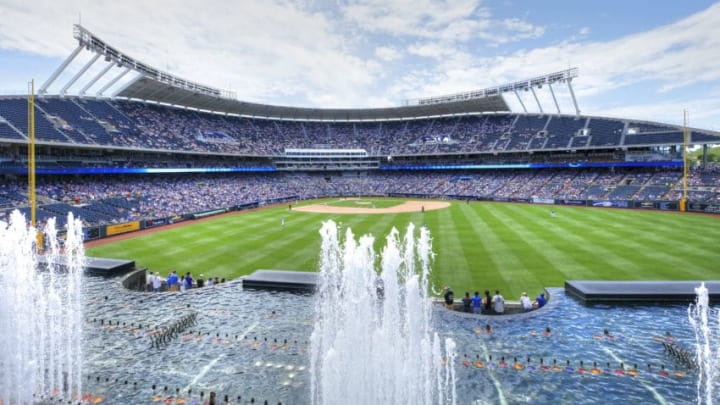 KC Royals (Photo by Joe Robbins/Getty Images) /
Take a look back with the KC Royals as games continue to be played across varying platforms for fans to have some sort of baseball to fill the gap.
As the days move on, it seems that there are more and more options for fans of the KC Royals to get their baseball fix. Brett Phillips is still playing in the MLB The Show tournament, and if you haven't seen videos of him already, he is usually nothing but entertaining.
There are also lots of team videos being put up, interviews with players, activity sheets, plus much much more being put out by the team. Another big plus for many fans though may be the access to some games from the past that can be watched to keep baseball alive in this strange time without live games.
While it's been mentioned before that some games can be watched on the MLB youtube channels and that the past couple seasons have been available, for Royals fans specifically, some have been able to catch games across some of the varying Kansas City media platforms, from Fox Sports KC to 610 Sports Radio.
This week, there are some great games in the lineup, like the first save from Greg Holland, multiple games from the 2014 and 2015 postseason, and Salvador Perez's first home run. Here is the post with the full list of dates and times and where the games can be found:
While it's unfortunate that there are no live games, and that the games are on multiple platforms, some of which may not be accessible to many fans, even limited access to some games from the past is a big positive.
They can help fill the void that the lack of a season has left behind and provide the baseball that is needed to make life not so dull.
There continues to be discussion after discussion about what to do with the baseball season, and what will happen once baseball returns. While there is no concrete idea about when the season will start, or even where it will be played, fans can only continue to hope that live games will resume sooner rather than later.
Though it hasn't been that long, it feels as though it has been years since fans were able to watch a live game of baseball. As talks continue to progress though, its more and more likely a baseball season will begin eventually. Until that time, enjoy the games that are being provided to watch and relive some of the greatest moments in Royal's history.