All-time KC Royals starting lineup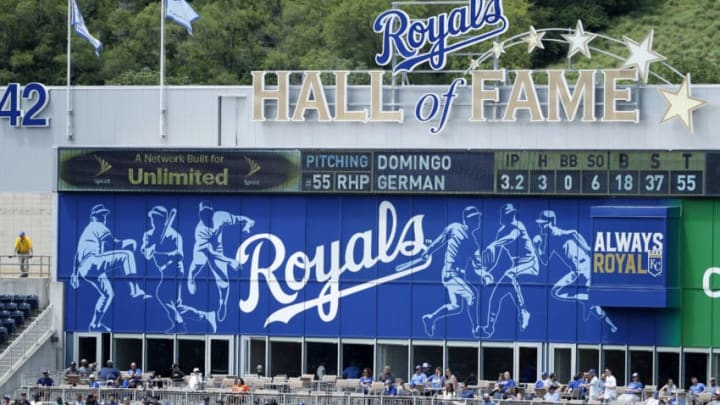 (Photo by Joe Robbins/Getty Images) /
(Photo by Owen C. Shaw/Getty Images) /
The last three KC Royals batters are important to make sure you can turn over the lineup to the top of the order.
7.
Little surprise to see Alex Gordon manning left field for this all-time lineup.  We hope the Gordo we get at the plate is the one who entered the batters box from 2011-2015 when he made three All-Star games and was 12th in MVP voting in 2014.  Either way, we will take his glove at any point of his career.
The pressure was on Gordon from the beginning as he was selected second overall in the 2005 MLB draft from the nearby University of Nebraska.  He played third base at the time and was a left-handed hitter who threw with his right making the comparisons to Brett inevitable.  He struggled with the weight of expectations but once he came back as an outfielder, his performance rocketed.
Overall he has hit .258 and reached base at a respectable .339 clip.  His home run total is usually in the mid-teens and twice has hit 20 or more.  Of course, we are really here for the glove work and the cannon for an arm.
Gordon had ridiculous seasons of 20 and 17 assists in 2011 and 2012 respectively and has 98 overall from the outfield.  Of course, there are the seven Gold Gloves to contend with as well.  We feel very comfortable with him batting seventh and playing the seven position.
8.
We all have fond memories of Frank White manning second base.  Overall, his offensive statistics are not as glossy as I remember, a .255/.293/.383 slash can attest to that, but he still was a tough out.  He never struck out more than 88 times in a season despite often recording over 500 plate appearances.
He had some speed, 178 career stolen bases, and a bit of pop, 160 long balls, and went to five All-Star games.  Like Gordon, White was a defensive wizard earning eight Gold Gloves.
He was a staple at second base as 2,151 of his 2,324 games were played at that position.  White was a key member of the 1985 World Series championship team as he drove in six runs with three doubles and a homer against the Cardinals.
All 18 years of his baseball career were spent in Kansas City and he went on to do commentating on Royals broadcasts.  Sadly, he had a falling out with the KC Royals but has stayed in the metro area serving as a County Executive for Jackson County.
9.
With more ability to reach base, Freddie Patek would have been the perfect lead off man for this team.  He stole 336 bases with the Royals including 49 in 1971 and an AL best 53 in 1977.  He also led the majors in triples with 11 in '71 and finished sixth in the MVP voting.
He was a serviceable shortstop, not spectacular and could be error-prone, but was typically around the league average in fielding.  He gave the Royals nine seasons of his career and went to the All-Star game three times.
What holds Patek back from leading off is the .309 OBP he produced for the Royals.  The most walks he recorded in a season was 77 in 1974 but typically was in the 40's or low 50's for totals.  He definitely fit the model of a slap hitter never slugging higher than .371 back in '71.
Still, Patek was an important foundation for building Kansas City into a perennial playoff team from the mid '70s to the mid '80s.  He did not let his 5'5″ 148-lb frame keep him from being a major league player for 14 years total, a remarkable feat.
""I never let my size stop me from doing anything," Freddie Patek was saying in his pleasantly firm voice before last night's game. "I even remember how I got this way." – NY Times"
There you have it.  The ultimate starting lineup for all-time Kansas City Royals players.  A nice blend of batting prowess and glove work that would be fun to watch.  One thing to be grateful for is that even through the ups and downs of KC Royals' baseball, there are players of every era that are special to watch.