Young KC Royals star pays tribute to Special athletes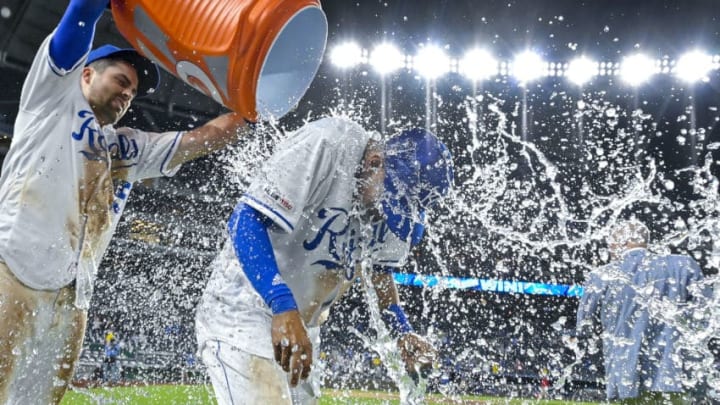 (Photo by John Sleezer/Getty Images) /
This young KC Royals player took time to send the Special Olympic athletes from Kansas a message to stay active and stay positive.
Despite baseball being on hold for now, many KC Royals' players are busy staying in shape and catching up with friends and family.  One player, Nicky Lopez, took time out to send a video to the Special Olympic Kansas athletes.
As many of us struggle with being confined to limited interaction and activity, the hard-working athletes of Special Olympics are no different.  Many should be participating or gearing up for events this spring and summer.
Sadly the basketball, cheer and power lifting competitions have already been scratched for 2020.  Tentatively the Summer Games are still scheduled for June 5-7 but time will tell if they will be postponed or outright cancelled.
One way you can help is by sending the athletes a special message, just as Lopez did.  The Special Olympics website has a link that will allow you to do that plus donate to a wonderful cause.  We would love if every Kings of Kauffman reader could take part and make a difference to these fantastic people.
Another option is to join the I-70 challenge and try to talk the distance between Kansas City and Goodland, nearly 405 miles!  It started on April 1st but you can join anytime as it ends on July 10th.  Do it as an individual or gather a team and make it more fun.  Motivate those around you and the Special Olympic athletes who are participating.
It is uplifting to see a major league player take time out to spread joy to these talented individuals.  If we get goose bumps watching a selfless player uplift others, imagine the joy it brings to them.
A big shout out to Lopez for being a champion for those in his community and especially those who could use an extra pick-me-up during this time.  Be sure and let him know on Twitter @nick3lopez that you appreciate him and if you decided to give.