KC Royals: Opening Day as defending champions in 2016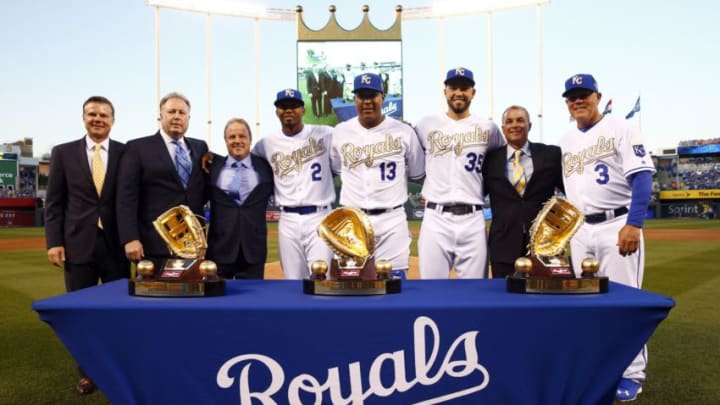 (Photo by Jamie Squire/Getty Images) /
It was only four short years ago but it feels like a decade at least.  The KC Royals were coming off their first championship in thirty years.
April 3, 2016 was a special day.  Not only because it was Opening Day for the KC Royals, that is always special.  This time, the franchise was just five months removed from parading through downtown Kansas City celebrating their second World Series trophy.
It was an unusually perfect first game of the season.  The temperature was 74 degrees, it was sunny and a typical Midwestern breezy day.  Over 40,000 fans packed Kauffman Stadium to see the pomp and circumstance.
The cherry on the cake?  In town were the New York Mets.  The same team the Royals beat in Game 5 of the World Series.  Kansas City also debuted the Golden Threads jerseys which would have the team name on the front and player numbers on back filled in with gold coloring.
The championship flag was raised, Alcides Escobar, Eric Hosmer, and Salvador Perez received their Gold Glove awards, and highlights streamed on Crown Vision.  All in front of the New York Mets…awkward.
""It was just strange, the pregame ceremony. I think I would have enjoyed it more if we played another team. For them to relive that, it's a little awkward," said Yost – foxsports.com"
And then there was the game.  Earning the Opening Day start was Edison Volquez who went 13-9 the year before and pitched well in the 2015 playoffs.  He stymied the Mets with six innings of shutout ball, striking out five and only allowing five base runners.
The Royals struck first with Mike Moustakas reaching base on an error and advancing on a passed ball in the opening frame.  That allowed Hosmer to single him in.  Kendry Morales produced a sacrifice fly in the fourth inning to score Lorenzo Cain. Then Alex Gordon and Omar Infante drove in runs in the sixth giving Kansas City a 4-0 lead.
Making his return to the Royals was former lights out closer Joakim Soria. It was not a successful appearance as he gave up three singles and two walks to put the Mets within striking distance at 4-3. Luke Hochevar was able to close the door on rally punching out the last hitter in the eighth.
Insert Wade Davis, coming off an unbelievable 2015 that saw him finish sixth in Cy Young voting as a setup man who ended up closing out games after Greg Holland was injured.  He shut the door striking out the last two batters and the Royals began the year the same way they ended the prior…beating the New York Mets.
As great as the postseason and celebration in Kansas City after the World Series, this game brought back just about as many goosebumps.  Seeing the stadium packed, the awards being handed out, and the pennant being raised was a great chapter at the end of that book.