KC Royals: Follow along through a simulated season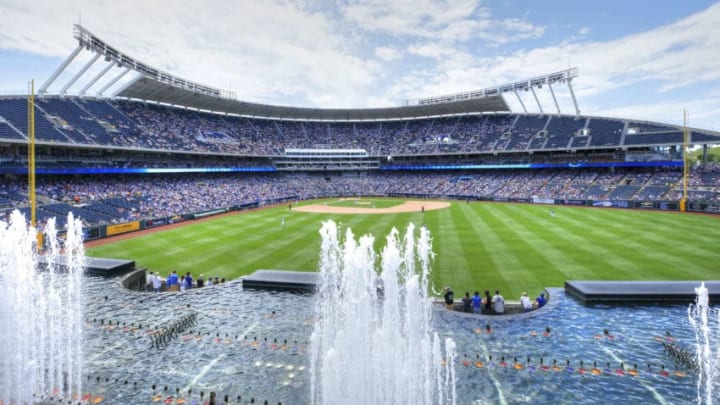 KC Royals (Photo by Joe Robbins/Getty Images) /
While the KC Royals may not be playing live baseball, there is a way that fans can continue to follow along and see a possible outcome of the 2020 season.
What was supposed to opening day for baseball has come and gone, and soon, the day for the KC Royals home opener will pass without a Royals baseball game on being played. It's a difficult time to witness, and it's likely that many fans at this point are just itching for even a hint of baseball.
There are a few ways to watch past games. MLB Network has been airing some, along with other sports channels, and the MLB Vault youtube page has also put up some games that fans of any team can enjoy. Unfortunately, it's just not as good a live baseball.
While it will still likely be a bit before live games are an everyday thing again, there is now a chance to follow along with the Royals, and all of baseball, though a simulated 2020 season. It's not a game that you can go sit in the stands for, but it's something to follow at least.
If you haven't had a chance yet, when you get a moment, make your way over the Baseball-Refernce.com. Many fans likely have visited this site before, and it is a great resource for any baseball fan that wants to keep up with stats or dive into stats from the past.
Now, Baseball-Reference has stepped up their game for fans that want even more. Using Out of the Park Baseball, they are simulating the 2020 season and updating baseball fans daily of the game scores and standings.
Fans are able to see multiple types of stats as well, from their digest page which shows the scores of each game taking place that day to team pages where one can see how a specific team is doing, as well as players stats.
Fans can even lookup individual players and see their simulated stats for the season. Baseball-Reference is going to great lengths to try and give fans baseball, and they are doing an outstanding job in the process.
It may not be the live baseball games that Royals fans really want, but at least it gives something to check every day. The simulated season has just kicked off, and so far the Royals are 1 and 1 on the season, splitting the series so far with the Chicago White Sox.
If you need your baseball fix, head over to Baseball-Reference and take a look at their project to keep baseball alive and well.