KC Royals displaying power early in spring training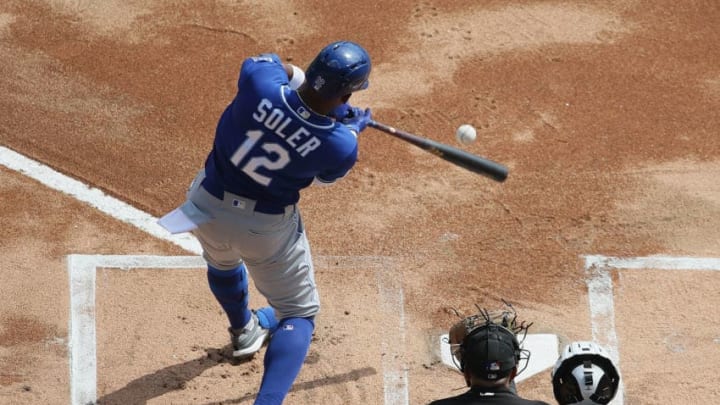 KC Royals, Jorge Soler (Photo by Jonathan Daniel/Getty Images) /
The KC Royals are showing they have some power on the team early in spring training, but they still have work to do on other offensive areas.
KC Royals fans likely expected to see some homeruns throughout spring training with the team but may have assumed a majority of them would come from Jorge Soler. While Soler does lead the team with 2 right now, the power has been spread around a bit with 5 other players joining in on the slugging.
Khalil Lee, Bubba Starling, MJ Melendez, Ryan O'Hearn, and now Ryan McBroom have all contributed along with Soler, adding 1 dinger each. With McBroom's long shot into the wind in Tuesday's game, the team sits at 7 during the first few games of spring training, only matched by the Detroit Tigers who also sit at seven.
Along with homeruns, it seems like every time the team is up to bat, someone is adding a double or triple to the stat sheet. While this also speaks to the speed and baserunning of the team, power has definitely come into play.
The Royals currently sit at 6th in the MLB in spring training slugging percentage at .477, not far behind teams like the Cubs (.479) and Phillies (.480), but still a long shot away from a team like the Diamondbacks (.562). Still, for a team that is not typically known for showcasing power across the board so early, it does bring some hope and promise.
Unfortunately, what may be holding the team back a bit can be seen when looking closer to the rest of the offensive stats, particularly batting average and on-base percentage. The Royals are currently sitting at a BA of .220 and an OBP of .297, both good for 22nd and 24th in the MLB, respectively.
Now, I like to see homeruns flying just as much as anyone, but teams have to be able to hit the ball consistently to also hit homeruns on a regular basis. If nobody is hitting well and nobody is on base, a home run every now and then might win the game a few times, but not enough.
Obviously there is still work to be done by the team and luckily, it's still pretty early in spring training. Players have a decent amount of time to get back in the "swing" of things before the regular season begins.
While the team BA and OPB are currently low, the high slugging potential is promising. Not just the home runs, but the doubles and triples. With the speed that the Royals employ, hitting for extra bases should be enough to bring in some runs, and as their average increases, the power will hopefully become more frequent as well.
There is a lot of spring training left and a lot of time for players to pull it together. Hopefully, fans will see the team start to bring up their average and find the base more often. Until that time though, continued homeruns will always be a good sight to see.