Could Brett Phillips be the next Lorenzo Cain for KC Royals?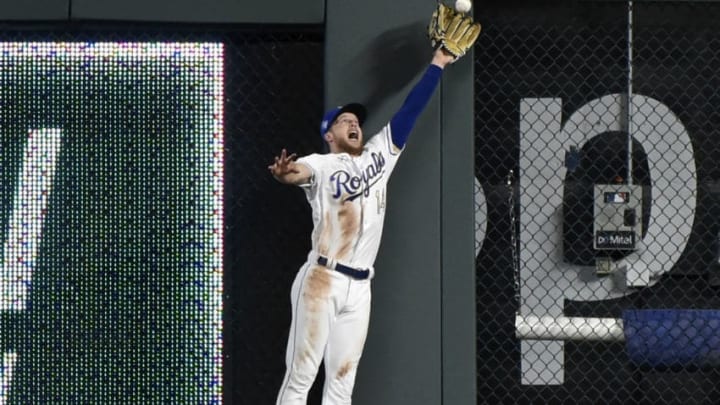 KC Royals, Brett Phillips (Photo by Ed Zurga/Getty Images) /
The KC Royals and their fans fell in love with Lorenzo Cain because of his elite defense and improved bat. Could Brett Phillips possibly follow suit?
The KC Royals have been blessed with some truly terrific defensive outfielders over the years. Seven-time Gold Glove winner Alex Gordon headlines the group, but even role players like Jarrod Dyson once contributed some great range in the roomy Kauffman Stadium outfield. Lorenzo Cain became a fan favorite as a result of his diving catches and limitless coverage.
Cain, acquired as a prospect from the Milwaukee Brewers, didn't fully come into his own until the 2014 season. That campaign began a streak of five-consecutive good hitting years for the former 17th-round draft pick. 2014 was Cain's age-28 season. A late bloomer in the eyes of everyone, it didn't matter much in the grand scheme of things because once he broke out at the plate — he broke out at the plate.
He was also a top-flight defender in the outfield between two positions for three consecutive years. Posting a double-digit UZR in 2013, 2014 and 2015, Cain cemented himself as one of the game's best overall players. Whether it was in center field or many feet away in right, he was a treat to watch.
Brett Phillips, also coming over from the Brewers organization, has yet to leave a lasting impression at the major league level. In 286 MLB at-bats, the former sixth-round pick holds a career .203 batting average and an OPS+ of 65, which are both borderline unplayable. His terrific defense has been his only saving grace, and even that may not be enough to keep him in contention for an outfield spot at the MLB level for much longer.
In 2017 with Milwaukee, Phillips' UZR was 4.7 over the course of 213 innings in the outfield. The following seasons saw totals of 8.6 and 5.5 in 314.1 and 184.1 innings, respectively. While these sample sizes are remarkably small, the fact that Phillips was able to defend at an above-average level by the numbers is astounding. What's even better is how unbelievable things become when imagining him playing full-time.
Cain's three-year peak saw UZR/150s (UZR projected out to 150 games worth of innings) of 19.6, 16.1 and 11.2. Phillips' first three seasons in the league: 27.0, 29.9 and 31.5. Those would be off the charts by a significant margin. It would be virtually impossible for him to play out a full campaign and finish sniffing anything above 20, but it's still crazy to consider.
The Phillips conundrum starts — and ends — with his bat. Last season's .138/.247/.262 line was downright putrid, providing neither him nor the Royals with the confidence boost they were hoping for. If he wants to stand any chance of sticking with the team, he'll have to produce at the plate starting this season.
How he finished with 0.2 wins above replacement is a testament to how brilliant he is at defense, though. Phillips' arm is among the best in the game, he makes Cain-like catches that leave fans in awe and his range is right up there with some pretty good Royals outfielders. You know who.
Lorenzo Cain took a while to figure things out in the MLB. Brett Phillips certainly deserves one more shot to see if he can do the same. If he sinks, he'll forever be an AAAA outfielder that plays tremendous defense but has one of the worst bats in the league. If he can improve the hit tool just a bit, though, the KC Royals may have the next Lorenzo Cain already on the 26-man roster.