12 Days of Royals: A healthy and effective Kyle Zimmer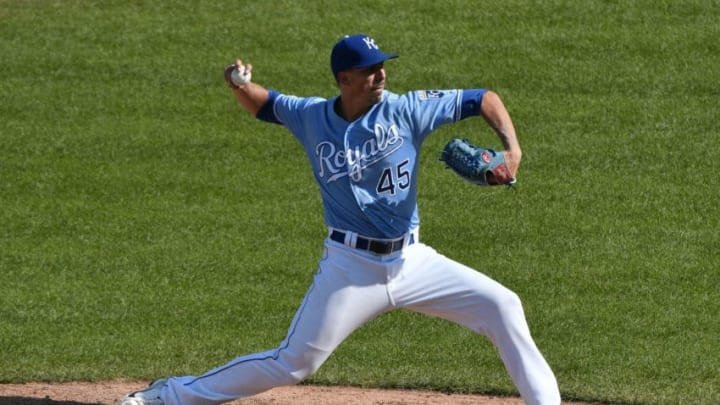 (Photo by Ed Zurga/Getty Images) /
A breakout season for a former first-round draft pick should be on every Christmas wish list of Kansas City Royals' fans.
Welcome back to Kings of Kauffman's 12 Days of Kansas City Royals Christmas series. Every day through December 25, the team here will take turns coming up with their wish lists for the hometown squad. Today, we wish for pitcher Kyle Zimmer to have a completely healthy and effective season.
Kyle Zimmer is a study in perseverance…perhaps the ultimate such study in the recent annals of the Kansas City Royals. Despite his seemingly endless string of injuries since the club made him the fifth overall selection in the 2012 Amateur Draft, Zimmer's quest to fulfill the promise of a first-round pick hasn't wavered.
Zimmer appeared destined for a fast-track journey to the major leagues after the Royals gave him a $3 million signing bonus to leave the University of San Francisco for the grind of the minor leagues; according to Baseball America, he possessed the best fastball and third-best curve in college baseball. He beat future superstar Gerrit Cole and UCLA in a NCAA Regional game when he retired 26 of the 28 batters he faced, 11 on strikeouts.
Zimmer signed just three days after the draft and joined the Royals' Arizona rookie team; 13 strikeouts in 10 innings, no walks and an 0.90 ERA later, he found himself promoted to Class A Kane County, where he struck out 29 in 29.2 innings and posted a 2.43 ERA. In August, however, he had a surgical procedure on his right elbow. It would prove to be the first in an alarming series of injuries, surgeries, and shutdowns.
Despite a 4-8 record, Zimmer struck out 113 in just under 90 innings at High A Wilmington in 2013, then finished the season with 27 K's and a 1.93 ERA in 18.2 innings at AA Northwest Arkansas. But right shoulder stiffness led the Naturals to shut Zimmer down in August.
Then came 2014 and an odd mix of good performance and inhibiting injuries. Zimmer posted a 1.93 ERA in a small sample 4.2 innings at Idaho Falls and then struck out 15 in 9.2 innings in the Arizona Fall League. But the loss of several weeks to a lat muscle strain and another right shoulder injury limited his work; if those ills weren't enough, his right labrum and rotator cuff underwent surgical repair in the off-season.
Zimmer split 2015 between Class A Lexington and Northwest Arkansas; he struck out 72 in 64 innings with a cumulative 2.39 ERA. But he again missed time when soreness struck his recently serviced shoulder.
The drama that was enveloping Zimmer's career continued in 2016: his combined 1.59 ERA  and 17.5 S09 were overshadowed by six walks in the meager 6.2 inning he pitched, work drastically limited by Spring Training arm fatigue that led to extended spring camp, then season-ending thoracic outlet syndrome surgery in July.
Another right shoulder injury cut Zimmer's 2017 season short; he pitched one game for the Naturals, then appeared in 20 at AAA Omaha where a 5.79 ERA (by far the worst of his career) preceded the injury. Zimmer missed all of 2018 as he recovered. But Zimmer persevered — despite being sidelined, he spent his time away from the diamond at Driveline Baseball, the highly touted pitching instructional center and left ready to resume his delayed trip to the majors.
Zimmer finally made it to Kauffman Stadium in 2019, striking out two in a scoreless March 31 inning against the White Sox. But it was not a sign of things to come, as control problems replaced injuries as Zimmer's nemesis. This led to two return trips to Omaha before he finished the season in KC. He had a 5.5 BB9 and 4.33 ERA in 37 AAA games, but it was his 18 walks in 18.1 innings and ugly 10.80 ERA with the Royals that was most alarming.
Although a four-game slump from August 26-September 15 skewed his numbers — Zimmer gave up 14 runs and walked eight in six innings — he skid alone didn't account for his control problems, the same troubles that occasionally marred his minor league days.
Although Zimmer came late to pitching (SF recruited him as an infielder, then converted him to a pitcher) he has the build (6-3, 225) of a pitcher, a good curveball, and increased his fastball velocity by almost 3 mph in 2019, consistently hitting 96+ and occasionally 97.
But the mysterious, incompatible alignment of Zimmer's talent, injuries and control problems remain a seemingly interminable obstacle to his efforts to establish himself as a major league pitcher. He can pitch; he just needs health and control.
Kyle Zimmer has persevered through a dizzying and demoralizing series of injuries and control issues. Never, however, has he surrendered to those problems; he's battled season after season to overcome them and stake his claim to the big leagues.  A healthy and efficient Kyle Zimmer should be a "must" for the seasonal wish lists of the Kansas City Royals and their fans.