Royals: Rule 5 draft pick possibility, Eduard Bazardo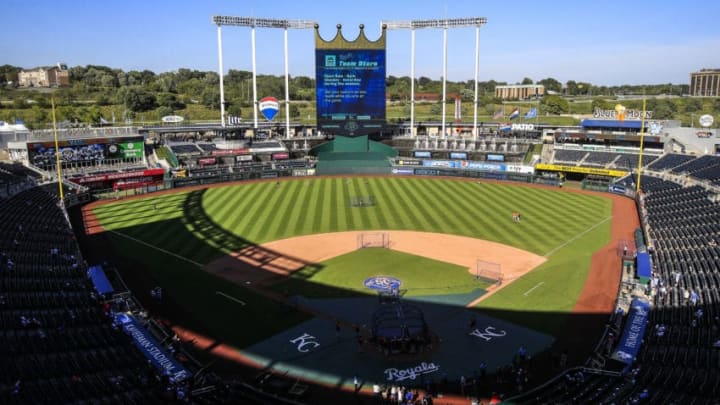 (Photo by Brian Davidson/Getty Images) /
With some free space on the roster, the Kansas City Royals may look to add some players through the upcoming Rule 5 draft.
With multiple recent roster moves, the Kansas City Royals have cleared up some space on the 40 man roster. It's likely the Royals will start to take a look at some available free agents, but there is also a chance they plan to be active in the Rule 5 draft quickly approaching.
While Rule 5 picks don't always work out, for teams like the Royals, if they have an open spot and find a player that could develop it's not always a bad route to take. Most teams ensured to protect their most valuable assets before the roster deadline in November, but that doesn't mean that there aren't still some gems available for a closer look.
One such player available in the Rule 5 this year is Eduard Bazardo. Bazardo first appeared in the Red Sox minor league system in 2015 at age 19 in the Dominican Summer League. He appeared in 14 games and held an ERA of 4.37 over 57.2 innings pitched with 55 strikeouts. This ERA has been the highest of his minor league career so far.
As far as his minor league career stats go, Bazardo has put up impressive numbers that could be attractive to a team needing to find some options for pitching. From 2015 to 2019, Bazardo has appeared in 100 games, starting 31, held an ERA of 2.55 over 310.0 innings, with 342 strikeouts and 81 walks.
Bazardo made it to AA in 2019 and continued to put up consistently good numbers, but he did see a spike in his is walks per nine, jumping to 3.6. His strikeouts per nine remained high as well though (9.7), and his history of consistently low walk numbers suggest he could have seen the spike due to acclimating to a higher level of baseball.
According to soxprospects.com, Bazardo has a fastball that hits in the low 90's and tops at 95 and has the ability to generate weak contact with this pitch. He also shows a curveball with "elite spin rate" which he is confident in using.
While they also state his progress has not gone as quickly as some may like, he could speed this up if he was in a relief specific position. Moving into a relief only role might not only increase his progression rate, but it could help him bump up his fastball velocity as well.
While Bazardo might not be the highest sought after prospect in the game, he is one who's upsides could really help a Royals bullpen that is in dire need of pitching help. His history of consistent numbers, high strikeouts and low walks is what the Royals need to be looking for in pitchers they can develop to help strengthen their bullpen.
Of course, there is always a risk, especially when taking players in the Rule 5. Was he not protected by Boston for a reason, or was there simply no room on the roster? There are a lot of unknowns with some of these players as there is often little to go on other than their few years of minor league ball.
Sometimes, though, the risk is worth the reward and the Royals don't have a whole lot to lose at this point. On the possible downside, Bazardo doesn't develop has hoped and he is returned to the Red Sox. On the possible upside, though, the Royals get a reliever who can control his pitches and limit walks while striking out his share.
While it would be nice to sign a will established pitcher during this offseason, it's likely the Royals will continue their usual trend of reclamation projects and risky signings to hopefully turn at the trade deadline. A Rule 5 pick like Bazardo, though, could provide the team with a decent reliever for years to come if he continues to progress with good numbers.