Royals: Catching up with catching prospect MJ Melendez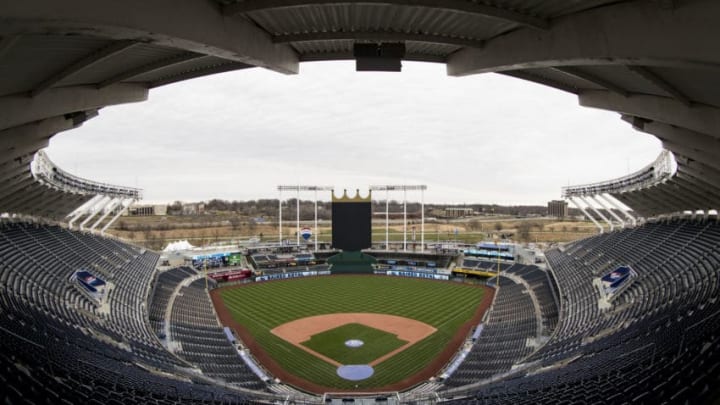 KC Royals (Photo by Brian Davidson/Getty Images) /
Kings of Kauffman recently interviewed MJ Melendez who many project as the potential catcher of the future with the Kansas City Royals.
Drafted in the second round of the 2017 Major League Baseball Amateur Draft out of Westminster Christian High School in Miami, Florida, MJ Melendez is currently listed as the ninth rated prospect with the Kansas City Royals.  After a monster 2018 with the Lexington Legends where he blasted 19 home runs, Melendez's numbers took a dip in 2019 but he still repeated his feat of being a Mid-Season All-Star and was a large part of the Wilmington Blue Rocks championship run.
The season-ending injury to Salvador Perez during Spring Training put a spotlight on the catching position.  Not only who can come along aside Perez and give him days off but who can ultimately handle the bulk of the catching duties in the future.  As you will see in the interview, Melendez has the character, along with the talent, to be that potential player.
Q: The Royals have named Mike Matheny as the new manager and he is a former multi-time winning Gold Glove catcher. Have you interacted with him this last year and what do you think you can take away as a catcher from him?
A: I am very excited that Mike Matheny will be our new manager. I did get to talk to him quite a bit during spring training last year and he is awesome. We have had conversations about catching and his perspectives on how he played and Yadier Molina who he managed for a couple of years!
Q: It was a special season for Wilmington this year, what are your biggest takeaways from that championship team?
A: The biggest takeaway from our season last year was the playoffs. I feel like we learned a lot about ourselves as individuals but also as a team coming together with the same goal in mind in winning a Championship. We picked each other up and came through in the clutch!
Q: You were going to play college ball under your father at Florida International, was it difficult to decide to sign with Kansas City instead?
A: It was a tough decision because I've always wanted to play for my dad in college. I grew up watching his teams and he hasn't been to Omaha YET but I wanted to be a part of the team to do it. I'll never get that opportunity but I know he has great talent at FIU and they can make that come true.
Q: Your brother is also a top catching prospect, is there other positions you both excelled at or was it always going to be catching?
A: Jayden and I have always loved catching. We grew up also playing in the infield whether it was 2nd base for me or 3rd for him. Once we got older we realized catching was our passion and what we were best at.
Q: Do you have specific areas you will be working on during the offseason or just general baseball preparation?
A: I will be working on everything. I will be focusing a lot on offense while also pushing myself to be the best defensive catcher as well!
Q: What part does faith play into your baseball career?
A: My faith plays a big role in my career. I feel as if baseball is a platform to share my faith in Jesus Christ. I know sometimes in sports people don't always want to see all that and they come to watch games, but baseball is more than a game. I think everyone can appreciate people off the field as well. We are all humans and at the end of the day, I want to do whatever I can to make a positive impact in this world.
Q: You are quite the YouTube star, how did that come about?
A: YouTube came about kind of randomly honestly haha. I've always loved watching YouTube and I felt I could connect better with people if I posted video content of pieces of my life!
Q: Any interesting facts Royals fans should know about you that haven't been previously revealed?
A: I would say that I love the game as much as anyone and I know that we will bring back the World Series Championship to Kansas City soon! I love the support that the Royals fans show me and everyone in our organization, whether we are doing amazing or in a little bit of a slump. KC we won't let you down, get ready for an amazing next couple of years with many W's!
A huge thank you to MJ Melendez (@mjmelendez7) for his time!  Be sure and give his YouTube channel a follow, you will not be disappointed.