Royals: Through the years, plenty of reasons to be thankful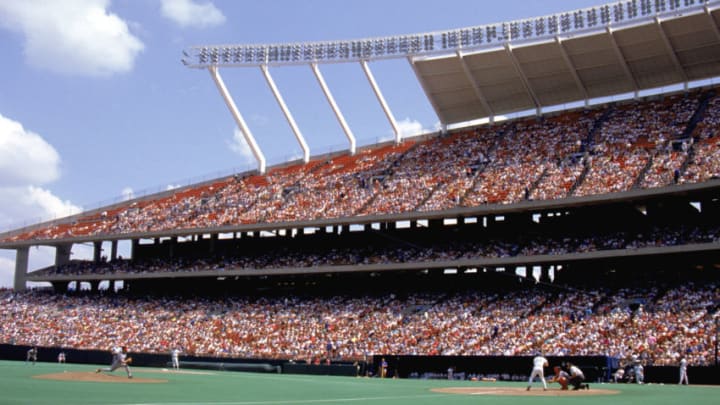 (Photo by Jonathan Daniel/Getty Images) /
(Photo by Ed Zurga/Getty Images) /
The Royals may never have a two-year run better than they did in 2014 and 2015. Those teams were just special.
The James Shields trade woke a lot of Royals fans up for the 2013 season. Whether you agreed with the trade or not, you had to admit that the Royals were trying to compete. And, after years and years of not competing, it was a nice change of pace.
Suddenly, the games that were being played on the radio as much for background noise during the summer became, once again, worth listening to. With Ervin Santana and James Shields, we could at least expect to have a chance to win twice a week.
Then, something amazing began to happen. The team began to believe they could win any game. The 2014 Royals had no one hit to an OPS over .800. They had no one hit 20 homeruns. No one. But guys like Eric Hosmer and Alcides Escobar and Mike Moustakas and Salvador Perez and Lorenzo Cain always seemed confident they could get the hit when they needed to. And their confidence was never diminished, even when maybe it should have been.
During the 2014 World Series run, those Royals became the most self-assured professional sports team I have ever watched. Even those of us who spent decades just waiting for the collapse to come became convinced this team would do whatever they had to do in order to win. It became almost shocking when a comeback fell short.
By 2015 the young Royals no longer needed James Shields. They had young studs like Yordano Ventura and Danny Duffy. They had crafty veterans like Edinson Volquez and Jason Vargas. And, if those guys could no longer go, they had reinforcements from guys like Chris Young and Kris Medlen.
And, they had that bullpen. My god, that bullpen. Greg Holland, Kelvin Herrera, Wade Davis, Ryan Madson, Franklin Morales, Luke Hochevar. All six of those guys threw over 40 innings. The worst ERA was Holland at 3.83. Every one of them, except for Franklin Morales, struck out more than 8 per 9 innings. Wade Davis had an ERA+ of 448. I just like to type that and giggle. There may never be a bullpen quite like that again.
The thing that sometimes gets overlooked from that 2015 team is how good the offense was. We had 5 guys hit to an OPS over .800, six if you count Ben Zobrist. We had 5 guys hit over 30 doubles. We also had four guys with an On Base Percentage over .350, five with Zobrist. Moose, Kendrys Morales, and Salvy all hit over 20 homeruns. We were a free-swinging, frightening gauntlet for bewildered pitchers to face. We were so good we started a new trend of hiding our worst hitter in the leadoff spot. That trend would never really catch on elsewhere.
One of the best baseball memories I have is flying home from California in 2014 to surprise my father and watch Game 6 with him. Yordano Ventura would put on a show for the entire world that night. And our offense would pummel Jake Peavy into submission in the second inning. After losing Game 7 to Bumgarner that year, I assumed that Game 6 would be the highlight of Royals baseball for my adult life.
Then the 2015 season happened and it was more than I could have ever asked for. At times it felt almost unreal. There were so many amazing comebacks and performances and memorable moments that season.
But, looking back, the most incredible aspect of that team is how destined it all feels. How no matter how far in the hole they got, it always felt like Lorenzo Cain or Alex Gordon would make an amazing catch to save an inning, or some fool would try to take the extra base on Jarrod Dyson or Alex Gordon. Esky or Salvy would hit a pitch a foot outside or over their heads for a base hit to keep a rally going. Moose or Hoz would drive one into the opposing team's bullpen when we needed it.
By the time Alex Gordon sent that Jeurys Familia pitch in Game 1 of the World Series soaring into the night, it felt like there was no other way that season could end. It changed the way I thought about Royals baseball. It reminded me that we could be great, we should be great, we were not relegated to second class. And as a Royals fan, it was a really good feeling. One I would like to have again. But for that feeling, for that remarkable run, I am eternally grateful.