Kansas City Royals: Making the case, Diamondbacks free agents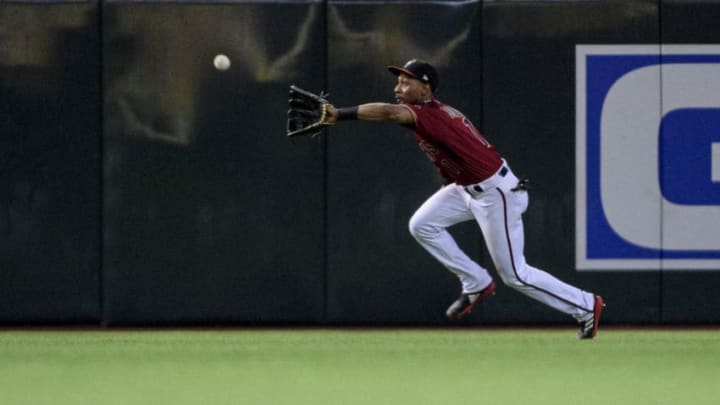 Photo by Jennifer Stewart/Getty Images /
Photo by Michael Reaves/Getty Images /
ALEX AVILA, C
Tommy John surgery stole Salvador Perez's 2019 season and deprived the Royals of his solid bat, Gold Glove defense and invaluable on-field and clubhouse leadership. In his absence, KC turned to Martin Maldonado, Cam Gallagher, Meibrys Viloria and Nick Dini, all of whom were adequate behind the plate but couldn't approach Perez's production at the plate.
Perez returns in 2020 but no one knows yet whether he can still gun down runners at his 35% career rate, which exceeds the MLB average by 7%. Viloria and Dini each threw out 40%, but their sample sizes are small. Gallagher has averaged catching just 21% of would-be base thieves in three seasons.
So it is that the Kansas City Royals need to back up Perez with a catcher who can throw runners out and handle a bat. Arizona free agent Alex Avila is an 11-year veteran and one-time All-Star with respectable career defensive numbers and a career caught stealing average of 30%. His career slash of .235/.348/.396 is better than the .215/.275/.336 combined 2019 average of Gallagher, Viloria and Dini. Avila's 2019 .207/.353/.421 slash and .184 batting average over two Diamondback seasons, however, are red flags.
Hamstring, quad and calf injuries have marred Avila's last three seasons and he'll turn 33, a fairly advanced age for catchers, before spring training starts. Viloria will be 23, Dini 26 and Gallagher 27 when camp opens.
Pursue Avila or move on? Move on. Avila is adequate defensively and may be better offensively than any of KC's current backup catchers, but he's getting older and his body and skills are in decline, rendering questionable his suitability for extended duty. Gallagher, Viloria and Dini are all homegrown products of the Royals system; Gallagher and Viloria have both backed up Perez and many consider Viloria to be Perez' heir apparent. This isn't the time for Kansas City to impede these young players' development with what could prove to be a Lucas Duda or Chris Owings-type move.