Kansas City Royals: Year-end review, manager Ned Yost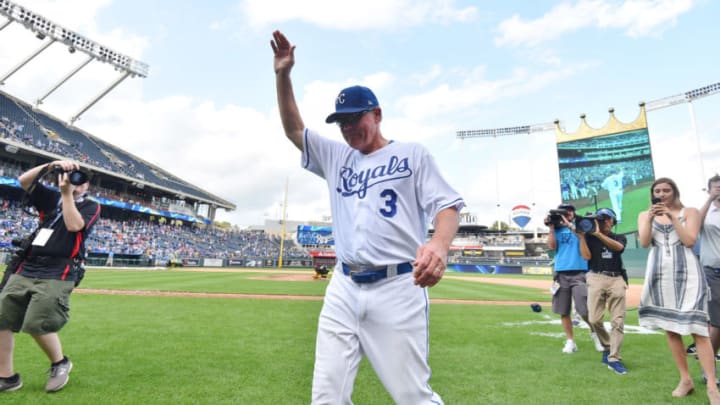 KC Royals, Ned Yost (Photo by Ed Zurga/Getty Images) /
The skipper with the most wins in Kansas City Royals history was only able to add 59 of them in 2019. Let's review his season.
Ned Yost won 746 games during his time with the Kansas City Royals. The first two-and-change of those years saw the team post records well below 0.500. The following season featured a 14-win improvement, but no playoff berth. 2014 and 2015 were magical, with the Royals snagging a pair of American League pennants and a World Series victory. Yost's guidance brought a championship to Kansas City for the first time in 30 years.
In 2016 and 2017, the club flirted with an 81-81 record for the entirety of both seasons. Following the conclusion of 2017, reality set in: It was the end of an era. Eric Hosmer and Lorenzo Cain left town, effectively putting to rest any hopes that the club could contend for the immediate future. Now, the Kansas City Royals are coming off back-to-back seasons in which they lost at least 100 games (for the first time since 2005-2006).
On Sept. 23, it was revealed that Yost would be retiring at the end of the 2019 season. His last week on the job was eventful, with outfielder Brett Phillips being nice enough to cap off his skipper's managerial career with a walk-off. Oh yeah, Yost was on the receiving end of a Salvy Splash, too:
Look, this article was originally going to involve a breakdown of some of Ned Yost's best — and worst — managerial decisions of the 2019 season. At the end of the day, though, Ned was Ned. Did he make some decisions that played a factor in losses? Sure. Could he have been better? It's possible. On the other hand, did he manage some pretty sweet victories? Absolutely. Did the guys in the clubhouse play extremely hard for Ned? They sure did. As fans, you either loved or hated Yost for those exact reasons.
Let's not forget that when things were about to get tough following the 2017 season, Yost could have retired quietly. Leaving behind the messes that were the 2018 and 2019 Kansas City Royals for someone else to deal with was an option he had. Instead, he stuck things out and repeatedly emphasized waiting to hang up his manager's hat until the club was moving in at least somewhat of a positive direction. A true players' coach, through and through.
The Kansas City Royals lost 103 games in 2019. Had Ned Yost been a better manager, even a perfect manager, that number would still be way too many for the team to qualify for a playoff spot. What if Yost had been worse? Well, the team still would've been very bad. To be completely honest, Yost's last hurrah was far from perfect — but how he handled it encapsulated his tenure with the Royals.