Kansas City Royals: Breaking down Kyle Zimmer's 2019 season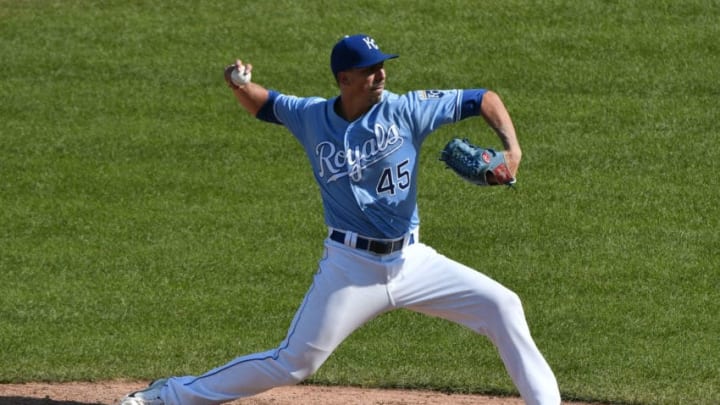 (Photo by Ed Zurga/Getty Images) /
Kyle Zimmer was the Kansas City Royals' first-round draft pick in the 2012 MLB Draft. We looked at how he performed in his rookie year.
To say that Kyle Zimmer has had a difficult path to the major leagues would be putting it mildly. The former 5th overall pick by the Kansas City Royals in the 2012 MLB Draft was highly touted coming out of the University of San Francisco, tossing 88.1 innings while striking out 104 batters and walking just 17 batters. He spun a 2.85 ERA and it looked like the Royals were going to have their front-line starter for the next decade.
However, it didn't play out that way after undergoing shoulder surgery in October 2014, his days of being a regular starter were pretty much over. That being said, Zimmer posted a 2.39 ERA in 24 appearances while striking out 72 batters and walking just 20 batters in 64.0 innings. In 2016, Zimmer, again, underwent shoulder surgery and that's when things started to turn. He returned for the 2017 season but posted a 5.40 ERA in 21 appearances between Double-A and Triple-A.
Perhaps he rushed back too soon because he spent all of 2018 rehabbing while being designated for assignment, signed to a minor league contract, and then was released all within the span of about a month. The Royals brought him back on a major league contract in January, but things couldn't have gone worse for him this season. Zimmer posted a 10.80 ERA in 18.1 innings of work while striking out 18 batters and walking 19. His 5.78 FIP suggests that he should have pitched better than he actually did, but the walks were detrimental.
Zimmer can still be an effective bullpen piece for the Royals but he must get his command under control. With a fastball that sits on average at 96 mph and a curveball that drops all the way down to 80 mph, he has the pitching arsenal that's capable of getting batters out. The problem is that Zimmer relies too heavily on a fastball (61 percent) that has relatively no movement. Batters squared up his fastball 12 percent of the time and hit 0.385 off his primary pitch. As a result, his fastball was the lowest swing and miss percentage of all his pitches at 24 percent.
That being said, Zimmer's other pitches, outside of his changeup, proved to be effective. He only used his changeup less than 5 percent of the time, which equated to just 21 pitches in his 15 appearances. Batters hit 0.500 off his changeup this year, but again, it's just too small of a sample size to make a strong determination.
Focusing on his other two pitches in the slider and curveball, Zimmer may have a future banking on the success of these. His slider tops out around 85 mph and opponents batted just 0.250 off it in 25 plate appearances. More importantly, Zimmer experienced the highest swing and miss with his slider at a 45 percent clip. This pitch was considered to be his go-to when he needed an out as he putout over 16 percent of batters with it.
Similarly, his curveball was rated as one of his best pitches with a 22 percent swing and miss rate and having 11 percent more vertical break than the league average. At less than 80 mph, his curveball is the perfect complement to his slider and fastball to keep hitters off balance.
Again, it will ultimately come down to Zimmer controlling his command. Having more walks than strikeouts is obviously not a good thing and this offseason, he needs to develop his changeup. With just a 1,439 RPM spin rate, his changeup is well below the league average of 2,200 RPM. A good changeup will take the pressure off the necessity to utilize his fastball as much as he did.
Zimmer already has plus pitches in his slider and curveball but he needs to spend the offseason working with the Rapsodo machine. He cannot continue to be hit hard at a 35 percent clip while walking every other batter, or he'll find himself unemployed again.