Kansas City Royals: Finding the keepers from the starting rotation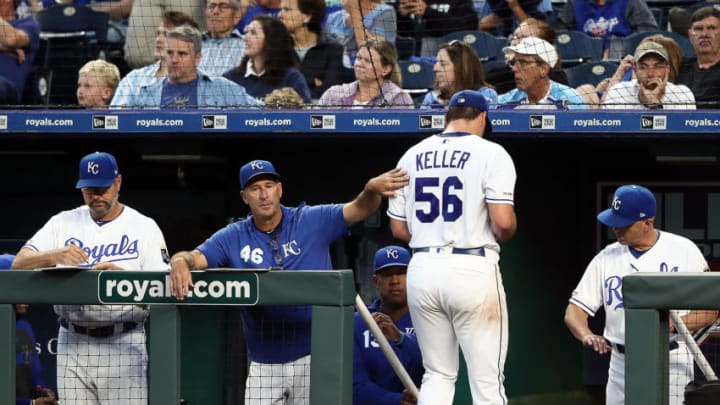 (Photo by Jamie Squire/Getty Images) /
(Photo by Eric Espada/Getty Images) /
Jorge Lopez has, at times, shown signs of becoming a valuable young piece of a starting rotation. But, until he shows consistency he cannot be counted on.
I am honestly fascinated by Jorge Lopez. Every time I am ready to move on from believing he will ever become a successful starting pitcher, he gets another chance and shines for a bit. And every time I become convinced he is a decent piece of a starting rotation he gets lit up like a Griswold Christmas. He is also only 26 years old and does have some good stuff.
So, there are still some justifiable reasons to give him more opportunities to start. He did come three outs away from throwing a perfect game in 2018. There is a real chance he comes out and looks so good in Spring Training that I regret writing this.  I sure hope that is the case.
The most frustrating part of watching Lopez pitch is that he often seems as surprised as the rest of us about where his next pitch may go. And he does not always show signs of being able to recover once he starts getting knocked around or issues a couple of free passes. His WHIP consistently hovers around 1.5 and that is just the sign of a guy who constantly puts runners on base.
And while no one gets more excited about baserunners than I do, it would be wise to find some starting pitchers that understand the goal is to not let every other batter reach base. If Jorge Lopez is in the starting rotation out of Spring Training in 2020, we will most likely see another season like this one.