Kansas City Royals: Danny Duffy dazzles in win against Marlins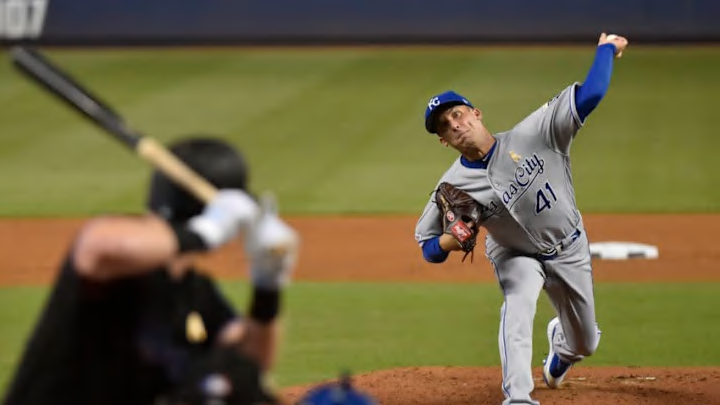 KC Royals, Danny Duffy (Photo by Eric Espada/Getty Images) /
Danny Duffy was magnificent for the Kansas City Royals in his second start back from his hamstring injury. The Royals offense came to life as well.
There have been rumblings of Danny Duffy potentially coming out of the bullpen next season for the Kansas City Royals, but he is doing his best to convince the front office to keep him in the rotation. In just his second start since coming back from the injured list, Duffy was tasked with going up against a bad Marlins offense.
Similar to Jorge Lopez, Duffy still has to go out there and pitch. His final stat line consisted of 6.0 innings while allowing just 2 hits, 1 earned runs, and 5 punchouts. He did allow 4 walks but was able to work around them. 58 of his 95 total pitches were for strikes and it was enough for the offense to come to life in the 7th inning.
Whit Merrifield got the Royals on the board with a single, but a fielding error by Austin Dean allowed Bubba Starling to head home. The Marlins intentionally walked Jorge Soler and Hunter Dozier made them pay with the bases loaded, lining an RBI-single to right field.
Alex Gordon followed that with a bases-loaded walk giving the Royals a 3-1 lead. Ryan McBroom is doing his best to make a case for the everyday first baseman in 2020, clearing the bases with a double down the right-field line, and Jorge Soler launched his 41st home run of the year in the top half of the 9th inning to make it a 7-2 lead.
https://twitter.com/Royals/status/1170496756045553664?s=20
Jacob Barnes certainly tried to make the game interesting in the bottom half of the 8th inning. Garrett Cooper doubled with 1 out and advanced to third on a wild pitch. Barnes walked Jorge Alfaro and Harold Ramirez lined a single to center field. That was it for Barnes and really should be it for him as a Royal.
Barnes was released by the Brewers back in early August and has continued to disappoint. He's not going to be in this bullpen when this team is good again so just cut the cord now.
This series had draft implications with the two teams separated by just 0.002 percentage points entering Friday night for the third overall pick. Obviously, it's nice to get the win but it's all about the future right now. The higher the draft pick the better.